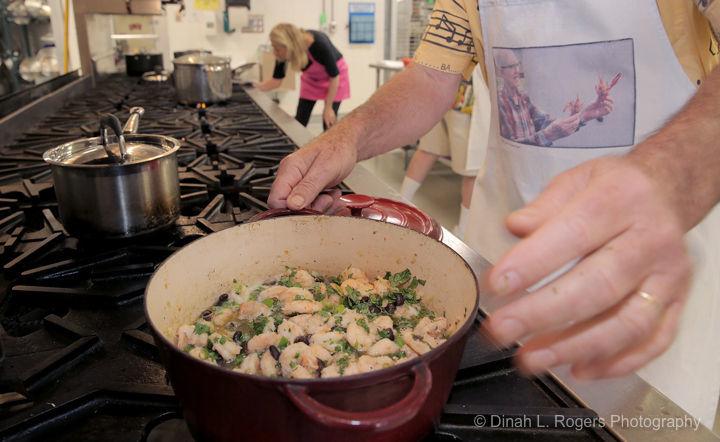 3 Delicious Shrimp Recipes of 2018 Gain Your Weight Cooking Shrimp | Where NOLA eats
[ad_1]
Floyd Kyle, who won the second annual "Gain Your Weight in Shrimp Presented by Rouses Markets" Saturday, June 23, already knew his Louisiana Caribbean-style shrimp dish was a winner. It had won his wife's heart.
"I created this recipe while working on the Caribbean island of St. Croix to help with reconstruction after Hurricane Hugo in 1990," said Kyle, who was at the time a Peace Corps volunteer at the Belize.
"I brought some fresh Louisiana shrimp from home and cooked this dish on Valentine's Day for my then best friend and fellow Peace Corps volunteer – whom I had a secret crush on. ", did he declare.
"This recipe helped me close the deal," said Kyle, who lives in lower Algiers with his wife, Amy, and 12-year-old son, Sam. "She loved this dish and my other. Louisiana cuisine and soon after we got engaged … Since then, it's been the most requested dish by my family and friends. "
Kyle, who has been married to Amy for 20 years, faced two other finalists, Dorothy Noriea of ​​Mandeville, who made a family favorite, a wonder, Shrimp Acadian, and Phil Wagner of New Orleans, who made a shrimp and chorizo ​​dish.
The three finalists met for a one-hour timed cooking in the Culinary Arts kitchens at Delgado Community College. Their recipes were chosen from 40 submitted by readers for the contest which began in May.
Kyle estimates he weighs around 167 pounds. He will receive that number of pounds of fresh and wild Gulf of Louisiana shrimp from Rouses Markets delivered to his door.
On Saturday, Kyle was still thinking about what to do with all those shrimp.
In 2017, Bill Falgoust won 200 pounds of shrimp in our first contest. He said he had about 6 pounds left in his freezer after cooking shrimp all year round and sharing over 100 pounds of his harvest with family and friends. (Find the recipes of Falgoust and the two other 2017 finalists here.)
Falgoust was invited to be part of the jury for the 2018 competition, which also included:
Here are the three finalists' recipes, including Kyle's winning dish.
"This dish makes me happy when I eat it," McPhail said. The other judges used words such as "authentic", "brilliant" and "delicious" to describe this winning dish.
The dish stands out for the half-cup of grated fresh ginger and lime zest.
"I learned to cook with my beautiful mom Juanita and have loved cooking all my life because Louisiana has amazing fresh ingredients to work with," Kyle said. "I have always enjoyed sharing laughter and fun times over a good meal with my family and friends."
This is a wholesale recipe that would be perfect for parties or family reunions.
Louisiana Shrimp – Caribbean Style
Give at least 10 to 12
16 ounces of Mahatma yellow rice
1/2 cup (1 stick) salted butter
3 fresh garlic cloves, chopped
3 pounds wild Louisiana shrimp (25/30) – peeled
1-1 / 2 teaspoon fresh ground black pepper, divided 1 teaspoon and 1/2 teaspoon to add to the finished dish
1/2 teaspoon Tony's Chachere Original Creole Seasoning
1/2 cup grated fresh ginger
1 can whole black beans, drained (not rinsed)
3/4 cup green onion tops, divided, 1/2 cup in the dish and 1/4 cup for the finished dish
The zest of a lime
3 tablespoons lime juice, divided, with 2 tablespoons in the dish and 1 tablespoon for the finished dish
1/4 cup chardonnay
3/4 cup chopped fresh cilantro, divided into 1/2 cup and 1/4 cup for the finished dish
20 grape tomatoes, halved
Cook yellow rice, according to package directions, except using only 5 cups of water. Bake for the recommended 20 minutes, then let stand while you prepare the other ingredients.
Melt 1 stick of butter in an 8 quart Dutch oven. Add the garlic and cook for two minutes over low heat. Add the shrimp and sauté with the garlic over medium-low heat for about a minute. When the shrimp start to turn pink, add 1 teaspoon of black pepper, Tony Chachere's Creole seasoning and grated ginger.
Reduce the heat to low. Add the black beans and 1/2 cup chopped green onions. Add the zest of a lime, 2 tablespoons of lime juice and the white wine.
Add 1/2 cup chopped fresh cilantro. Cook over low heat for 2 minutes.
Heat again over low heat, gently incorporate the yellow rice into the other ingredients. Add the tomatoes to the finished dish, then sprinkle with the remaining cilantro, green onions and fresh ground pepper. Drizzle with 1 tablespoon of fresh lime juice.
Over low heat, cover for 12 minutes to let the tomatoes steam and soften on top.
Turn off the heat and let stand 10 minutes before serving.
Wagner said he enjoys participating in cooking contests and "specializes in intoxicated foods, although this recipe is quite tame." He serves it over angel hair pasta. (I'd like to try it on rice.)
Noilly Prat Chorizo ​​Shrimps Bouligny Sauce
For 8 people
5 tablespoons of olive oil
1 red pepper, diced
2 carrots, chopped
2 stalks of celery, chopped
2 medium onions, diced
4 green onions, chopped
1 fresh tomato, chopped
19 ounces of chorizo ​​sausage
1 cup of chicken broth
1 cup heavy cream
7 ounces of tomato paste
Black or white pepper, to taste
Salt, to taste
2 pounds raw peeled and deveined shrimp
4 ounces (approximately) Noilly Prat Dry French Vermouth
Cracked black pepper
1/2 teaspoon nutmeg, to garnish
Dried chives, for garnish
1 pound of angel hair pasta
In a saucepan, heat the olive oil and sauté the vegetables in the order listed until they soften and the liquid is reduced, about 10 minutes
Add the chorizo ​​to the pot and cook until completely golden. Remove a small amount of chorizo ​​and set aside to coat the sauce at the end.
Reduce the heat and add the broth and cream to the pot. Mix well and bring to a boil. Add the tomato paste and mix well. Add pepper and salt to taste.
In another saucepan, boil water for the pasta. Add pasta to boiling water and cook, according to package directions. (Time this, so the pasta will be ready just like the shrimp are ready.)
While the pasta is boiling, add the shrimp to the original pot. Add the vermouth and continue cooking, stirring occasionally, until the shrimp turn pink.
Add the reserved chorizo ​​reserved on top of the mixture.
Place the sauce in a serving bowl. Garnish with cracked black pepper, nutmeg and chives for color.
Drain the pasta and place in a separate serving bowl.
Allow guests to pour sauce over pasta.
Noriea said she had recently moved and wanted to create a dish using just one pan and a few kitchen gadgets because she still hadn't fully unpacked. That means it makes a great weekday meal for the rest of us.
"I created this recipe over a period of several weeks adding and removing ingredients to get the perfect blend of flavors and textures," she said.
Noriea recommends making shrimp broth every time you peel shrimp. It freezes well and, she says, "it's liquid gold."
This recipe can easily be doubled. In addition, it is even better if it is prepared the day before its service. She served it over pasta, but recommends trying it in a bowl, with crusty French bread.
Acadian shrimp
For 4 to 6 people
1 pound of Gulf shrimp, with heads and skins
1/2 cup white onion, chopped
1/2 cup red bell pepper, chopped
2 stalks of celery, chopped
1 stick of salted butter
1-2 teaspoons of white or whole wheat flour
1/4 cup olive oil
1/2 cup frozen artichoke hearts, thawed
3-4 Roma tomatoes, chopped
1 / 8-1 / 4 teaspoon red pepper flakes (to taste)
1 teaspoon of rosemary, crushed
1/3 cup green onion, chopped
2 garlic cloves, chopped
2-3 tablespoons of capers
1 tablespoon of lemon juice
1/2 cup fresh spinach, crumpled
6 ounces of fresh mushrooms, thinly sliced
1 pound of pasta (your choice)
Make shrimp broth: Peel the shrimp. Set the peeled shrimp aside and keep the heads and shells. Place the heads and shells in a saucepan, add 1 cup of water and boil uncovered for 20 minutes. Drain the shells and heads from the water and keep the stock.
Sauté onions, red pepper and celery in butter until tender. Add flour and olive oil and sauté until four are incorporated and cooked through.
Cut the artichoke hearts into eight. Add the artichoke, tomatoes, chili flakes, rosemary, green onion, garlic, capers, lemon juice, shrimp and about 1/3 cup of your shrimp broth.
Simmer until the shrimp just start to turn pale pink. Add the spinach and mushrooms. Taste to adjust the salt and pepper.
Serve over pasta, rice or in a shallow bowl with hot French bread to soak up all the delicious sauce.
[ad_2]