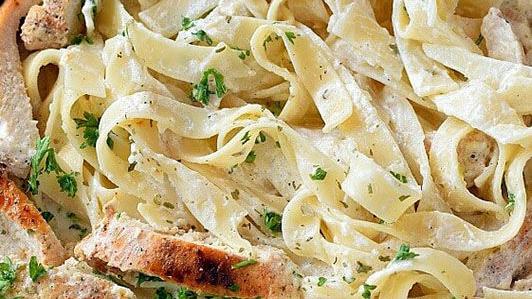 Adapted Italian cuisine common in the United States .. | Chroniclers
The United States is truly a melting pot. There are a lot of dishes that we love that have roots in other countries, but are purely American.
Italian-American cuisine became popular as immigrants to the United States adapted and created new dishes from old recipes. However, many of these dishes are common in the United States, but not found in Italy.
You won't find Alfredo sauce in Italy, but there are many pasta sauces made with butter and Parmigiano or Romano. The sauce most similar to alfredo is fettuccine al burro, and was actually created in 1914 by Alfredo di Lelio in Rome. Although its original sauce more closely resembles the currently popular Cacio e Pepe, it was later adapted in the United States and named after Alfredo himself.
There are several variations of Alfredo, but traditionally it is made by pouring heavy cream into a medium saucepan with hot butter and grated Parmesan, stirring until thickened and seasoning to taste.
I have also seen Alfredo made with a French preparation like a mornay sauce, or a béchamel with cheese which actually works well for casseroles.
One variation I don't recommend is adding cream cheese – it's too far from the original intent of the dish and can't be called an Alfredo.
This week I included my recipe for Alfredo Pasta with Grilled Honey Lemon Chicken. The lemon helps balance the fat in the dish with a little sparkle.
Of course, you can omit the chicken and serve the pasta on its own or with fish or shrimp. Any consistent pasta shape with a nice texture can be used to sear and hold all that creamy sauce.
If you have a cooking question, contact me at cher.orr@gmail.com and I would be happy to help!
Lemon Grilled Chicken Alfredo
• 1/2 cup unsalted butter, room temperature
• 2 cups of freshly grated Parmesan
• Salt and pepper to taste
• ½ teaspoon of lemon zest
• ¼ teaspoon of grated nutmeg
• ¼ cup chopped parsley
• Place a large pot of water to boil on the stove. When boiling, add a few tablespoons of salt. Reserve over low heat while preparing the sauce. Add the pasta when the sauce is almost ready. Stir to make sure the pasta is separating and cook until the pasta is not quite done as it will continue to cook a little more in the sauce. When the pasta is done, reserve 1 cup of the cooking water before adding the pasta to the sauce.
• While the water is boiling, heat a large, deep sauté pan over medium-low heat. Add the cream to the pan. Add the butter and whisk gently to melt it until blended and smooth. Simmer gently, whisking until thickened. Do not boil.
• Stir in Parmesan, nutmeg and zest until melted and sauce is smooth. Add the reserved pasta cooking water, a few tablespoons at a time, to thin the sauce if necessary. Season to taste with salt.
• Quickly add the cooked pasta to the sauté pan and mix gently to coat them with the sauce. Transfer the pasta to a warm serving bowl. Garnish with grated cheese and chopped parsley. Use immediately.
4 boneless, skinless chicken breast halves, cut into fillets
1 teaspoon of salt, or to taste
½ teaspoon freshly ground pepper
2 teaspoons finely chopped shallots
2 teaspoons finely chopped garlic
1 teaspoon grated lemon zest
1 tablespoon of chopped rosemary
1 tablespoon of dried parsley
• Whisk together the marinade. Place the chicken in a large Ziplock bag and add enough marinade to cover, reserving the rest. Marinate for 1 to 3 hours, but no more as the citrus will break down the meat.
• Preheat the grill to medium heat. Slowly grill the chicken pieces until cooked through and at a temperature of 165 degrees, basting occasionally with additional marinade.
Thadd White is Group Editor for Bertie Ledger-Advance, Chowan Herald, Perquimans Weekly, The Enterprise & Eastern North Carolina Living. He can be contacted by email at twhite@ncweeklies.com.