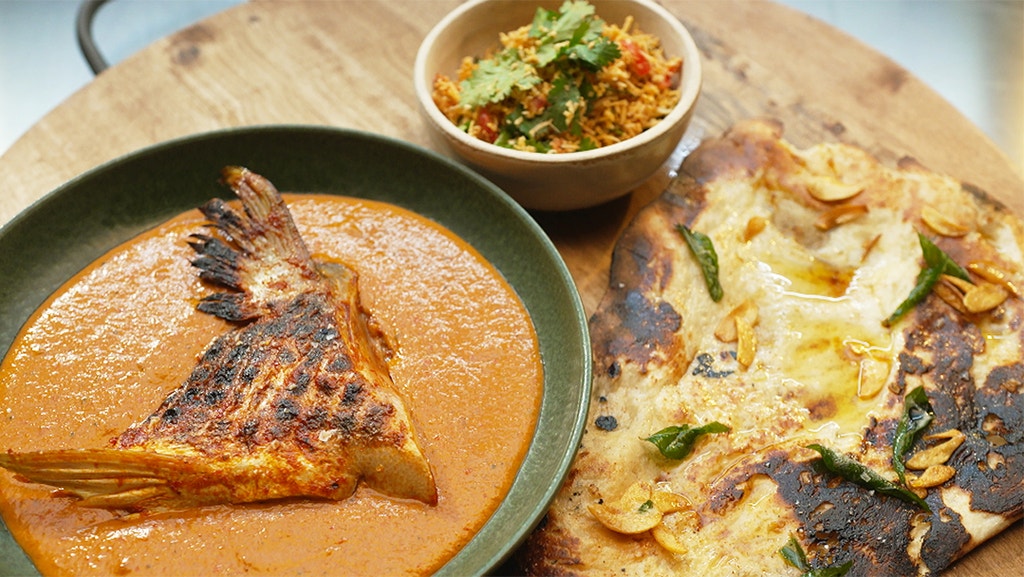 Fish Wing Curry with Coconut Sambal and Garlic Naan Bread
Not
For the curry paste, place a large saucepan over medium-high heat. Add sesame and grapeseed oil, garlic, ginger, galangal, lemongrass, coriander roots and stems, and chilies. Sweat for 3 minutes, stirring often.
Add the tomato puree and cook for 1 minute, stirring.
Add the palm sugar, sweet soy, crushed tomatoes and kaffir lime leaves to the skillet. Reduce the heat to low and simmer for 1 hour, stirring occasionally so that the dough does not stick to the bottom of the pan.
Transfer the mixture to a blender with the coconut milk and blend over high heat until smooth.
Marinate the trevally wings in the fish sauce (A) for 15 minutes.
For the curry sauce, heat the rice bran oil over medium heat in a large saucepan. Add the onions and sweat for 5 minutes until they become caramelized.
Add curry paste and coconut milk. Stir the sauce to combine, bring to a boil and cook for 20 minutes until slightly reduced.
Season the curry sauce with the fish sauce and lime juice.
Lightly brush the king mackerel wings with the curry sauce and place them on the hot hibachi, skin side down and cook until charred and cooked through. Season with flaked salt.
Pour the rest of the curry sauce into a serving bowl, then place the grilled king mackerel wings on top.
For the coconut sambalplace the dried fish in a mortar and pestle and crumble.
Add lime juice and cherry tomatoes, continuing to grind.
Add chili powder, coconut and salt to season. Leave to stand for 10 minutes then stir in the cilantro.
Transfer to a serving bowl.
For the naan bread, mix the sugar, yeast and lukewarm water in a bowl. Let stand 5 minutes.
In a large stainless steel bowl, combine the flour, plain yogurt and salt. When the risen water begins to bubble, add it to the flour mixture, make a wet dough and knead for 5 minutes. Cover with cling film and let rise for 1 hour or until doubled in size.
Once the dough has doubled in size, divide it into 4 equal pieces and pat out in circles about 20cm apart, using a little extra flour so the dough doesn't stick to the bench.
Stick the rolled dough to the side of the tandoor oven and bake until puffed and coloured, about 30-40 seconds. Reserve in a warm place.
To prepare the naan bread filling, melt the butter in a small saucepan until golden. Add the garlic and cook for 30 seconds. Add the curry leaves and cook for 10 seconds until crispy. Season with salt.
Once the naan bread is cooked, pour the infused butter over the top and place it on a serving plate.
Remarks
Tools
Hot hibachi.
Hot tandoor oven.
Remarks
Naan bread can be baked in a cast iron skillet.