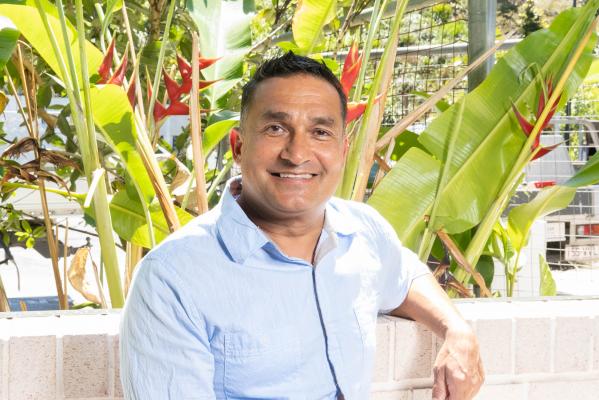 From Pierre to "Kuruvita" | Noosa today
PHIL JARRATT concludes his profile as master chef Peter Kuruvita
After two years at a restaurant called Crab Apple on the outskirts of Sydney, cutting his teeth alongside a chef named Scott, who smoked while he cooked, setting his cigarette down next to the hotplate between puffs, the young Peter was ready for a change.
He responded to a two-line classified ad for a chef and found himself searching for a door in a seedy alleyway on Riley Street in the eastern part of the city. Instead, he found two young chefs lying on the hood of an Alfa Romeo Spider, surrounded by empty bottles and yesterday's debris, awaiting the arrival of the boss (the owner of the spider). Pierre joins them.
"Finally the boss arrives," recalls Peter, "and he opens the door to this kind of wonderland. "
It was his introduction to the world of Greg Doyle, then Sydney's most prominent chef, and to Rogues, the palace of pleasures behind the alley door. Anyone who played in Sydney in the early 1980s knew Rogues, and everyone knew Doyle, who ran the club's excellent dining hall. I worked around the corner and was spending way too much of my salary behind those heavy doors, but for a few years it was the place to be.
Peter says: "I was still an apprentice, but that's when I really started to learn my trade. Greg was one of Sydney's top few chefs. Tony Bilson had Bon Gout, Anders Ausback had The Yellow Book, Mark Armstrong had Pegrum's, Peter Doyle had Reflections in Palm Beach. And I did them all! I would do Friday lunch with Mark, Sunday with Peter in Palmie, and a few evenings a week in Rogues. It was two incredible years. I moved into an apartment in Bondi with a few other chefs and we had a constant party.
But young Peter also took his profession seriously, which won over the luminaries he worked for. He says, "I think I started doing well because I had such a great work ethic, and for that I thank my parents. I was also talented as a chef and rose through the ranks quite quickly. Gregory [Doyle] has a reputation as one of our top seafood chefs, but at Rogues he did it all. There were only three of us in the kitchen, so we each did a bit of everything, and the food was just great.
But in high-end cuisine, temper reigns supreme, as Peter discovered. "We were doing 90 a night and Doyley was yelling at us. He was a pot-crier. He would burn you on purpose, or give you a big boot in your ass if he thought you weren't working fast enough.
Back in the days when celebrity chefs were just a thing and egos were out of control, abuse of apprentices was common and salaries appalling, but Peter had managed to set aside enough to travel each year, typically exploring Southeast Asia. Southeast or returning to Sri Lanka.
He recalls: "The day I finished my apprenticeship I was leaving for London, but it took me a year to get there, backpacking through Asia for most of 1983. In China, I learned to eat whatever was offered, including the snake and the cat. "
In London, Peter's ambition was to learn from the best, so he started with the legendary Roux brothers, Michel and Albert, who had a string of Michelin-starred restaurants since the 1960s, and he managed to find work. both at Le Gavroche and at the Waterside Inn and develop a relationship with Michel Roux that lasted for many years. Peter says: "Michel married an Australian and every time he came here he came to my restaurant to eat my mud crab. He just loved it. But Albert was a tough man, he worked you 100 hours a week and wouldn't let you talk. Often times at these top restaurants they wouldn't pay you. You had to go begging for your money. In the end, I decided to aim high and applied for the position of chef at a little restaurant called Stanton's in Clapham. We started to delve into the guides and people loved what I was doing which was just what Greg Doyle taught me.
When he finally returned to Australia, Peter made a pact with himself never to work twice for the same boss, so when Greg Doyle called and offered him the job of chef at his new restaurant, Pier, he must have politely refused. Doyle said he understood the logic and would recommend it to others.
Peter remembers, "Five minutes later Neil Perry rings the bell and says he's opening Bluewater Grill and wants me to be the chef. I had never met Neil but I said yes, and I was there to finish the building and I stayed six months. Then Michael McMahon, whom I had met in Rogues when he was Len Evans' wine manager, came to the Bluewater Grill one day, invited me to lunch and offered me the job of head chef at Barrenjoey House. in Palm Beach. This place was crazy and I loved it.
"Working for Neil, this ponytailed Australian who had never been to Europe or Asia and who cooks French dishes with an Asian accent, made me think of experimenting with Sri Lankan cuisine. I started adding Sri Lankan flavors to what I was cooking at Barrenjoey House. It was the start of my own cooking.
Later, as chef at Bilson after Tony Bilson left, Paul and Linda McCartney were among the many celebrities Peter cooked for. Linda was so pleased with her specially prepared vegan dinner that she sent Peter a signed copy of her latest book. The inscription began with "Dear Tony …"
Peter says: "That's when I realized no one knew me, so I hired a really good PR consultant and soon everyone knew me. Including big TV producer Henry Crawford, who also owned a Fijian resort called Vatulele, which needed a new executive chef.
It turned out to be the first joint date for newly married Mr. and Mrs. Peter Kuruvita, with Karen taking on as deputy director of the luxury eight-bure hideaway for the rich and famous. Peter says: "I created the menu every day based on what we had caught. I would literally be on the boat carrying the fish and Karen would call me to ask me what to put on the menu for dinner. All the guests sat at the same table and I walked past them with a big fish on my shoulder to bring it to the kitchen to cook it.
After the island experience, Peter felt ready to open his own restaurant in Sydney. With the help of an investment from Papa Wickramapala (who sadly passed away shortly after it opened), the Kuruvitas created Avalon in Bondi, where he hired an apprentice chef from Noosa. (Today Nathan Nicholl is, like Peter, an entrepreneur in the food industry as well as a chef, and the two will work together on projects in Alba.)
Then came an offer from a consortium of companies to lend their name and talents to a restaurant called Flying Fish. Peter, who naturally asked for part of the action, recalls: "It was a handshake and of course it ended badly. But at the time, it was Sydney's finest restaurant. I was in total control and brought in the best chefs I had worked with anywhere else. We opened with a bang and the Good Food Guide gave us two hats in the first year. The hotel scouts came to see what it was about. One of them represented the Starwood hotels which were then rebuilding the Sheraton Fiji. So we opened Flying Fish Fiji.
With three best-selling cookbooks and half a dozen TV travel stories about the kitchen appearing simultaneously, the Kuruvita brand had indeed arrived when Peter received an offer to
Blackstone, the new owners of the Sheraton Noosa Resort to make a Noosa restaurant. Peter says, "I was trying to build a restaurant in Mexico at the same time, so it was a bit of a juggling act, but we finished Noosa Beach House in time to open the first day of the 2014 Noosa Food and Wine Festival. We were living. still in Sydney, near the airport, and suddenly I thought, what am I doing? We could live in Noosa. We packed our two vans with the motorcycles in the back and got on.
"We fell in love with Noosa. It is a chef's paradise. You have all the produce of the backcountry and the sustainable fisheries of our ocean. There were some hiccups along the way, but
Noosa Beach House was where my Sri Lankan influences reached their peak. I always told Noosa that my bread and butter were the locals. Tourists come and go, but if the locals love you, you'll never be empty.
This is the philosophy Peter and Karen embrace in ALBA By Kuruvita, within the Parkridge complex on the shores of Lake Weyba in Noosa Heads, as Peter writes in his press release: "It's really exciting to build at again a new place from the ground up. I wanted ALBA to have a diverse range of offers – something for everyone! "
As we conclude our long conversation in the shell that will become Alba, Peter says, "Alba's vision is a community center, it belongs to the 700 houses in this enclosure. Whether it's coming to the supplier to buy milk or having a big night out at the restaurant, I want this to be a place the locals will call their own. Snapper curry has been my best-selling dish for over 20 years, so it will definitely be on the menu. And the black pepper shrimp. Let's say the accent will be modern Australian with a Sri Lankan twist.
ALBA By Kuruvita is scheduled to open in early December.