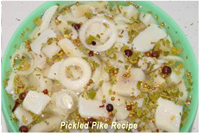 Fry fish, baked fish, fish recipes, baked fish, walleye, pike, crappie
---
---
Large pickled pike
The old stand-by for all those who love marinated fish. If you are a fan of pickled fish, northern pike is the perfect fish to use for marinating. The finished pieces are firm and sweet. Great for parties and also makes a great snack.
Start the brine phase 1: 1 cup of salt for 1 liter of water. The pieces of fish soak for exactly 2 days.
Vinegar Brine Phase 2: Drain the starting brine – Do not rinse the pieces of fish. Soak in white vinegar, completely covered for 24 hours. After 24 hours, drain the vinegar – Do not rinse the pieces of fish.
Pike fillets cut into pieces about 1 inch square. Use a large plastic bowl and cover with enough liquid to completely submerge all of the pieces. Right: final solution, use a large marinade jar or plastic container like this Tupperware bowl, make sure the pieces are loosely wrapped and completely covered in liquid. In the final phase, the fish is ready to eat after about 5 days. But the finished product will last for several months in the refrigerator.
Finishing brine Phase 3: Mix 4 cups of white vinegar, 3 cups of sugar Heat to dissolve the sugar – Let stand until it cools Add 1 cup of white wine (Silver Satin preferably, but other wines "soft" whites will do) the mixture to cool well before adding it to the fish. Arrange the fish pieces and sliced ​​onions in a jar and cover with the pickling solution recipe, leave covered with pickling solution and soak for 1 week before eating. The fish will keep for several months in the refrigerator.
---
Smoked Fish – Basic Salt Brine Recipe
Basic brine mixture
5 lbs of canning / pickling salt
2 pounds of brown sugar
2 tablespoons of onion powder
1 tablespoon of garlic powder
1 TBSP Ground
2 tablespoons of Orogen
This recipe makes it possible to prepare several batches of smoked fish and can also be used for other meats. Mix well, store in tightly closed ziplock bags.
For me, 1 gallon freezer bags with 1-1 / 2 cups of powder in each are perfect.
To be used as a dry brine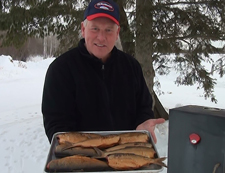 In a large plastic bag, add about 1 cup of the dry mixture and shake the moistened powdered fish until well coated. Add small portions of dry brine as needed to prevent the mixture from becoming wet or "slush". The coating should be uniform and thick. For larger whole fish, add powder inside the body cavity.
Place the fish in a suitable plastic, jar or glass container. While curing, store in the refrigerator. The hardening time depends on personal taste, 6 to 12 hours depending on the size of the fish and the desired salty taste.
To be used as a wet brine
Use a clean jar, glass container, or plastic bucket. Do not use a metal container. Combine 1-1 / 2 cups of powder in about 8 cups of water, stirring until well combined.
Check that the mixture is correct by dipping a peeled potato or a fresh uncooked egg in it. The egg or potato should float easily. If either does not float, add small amounts of powder until they float.
Place the fish in a liquid and use a glass plate to keep the pieces completely submerged. Soak 8 to 12 hours. Keep cool, stir occasionally.
* For either method, remove the dried fish pieces from the brine, rinse them in cold water and place them on a cookie sheet (s) lined with paper towels. Store the fish in the refrigerator and let dry until the outer skin is dry to the touch. When ready, smoke the fish for about 2.5 hours at 220-240 degrees.
---

It's a great way to "use" that last duck or two and also works well with pheasant and other wild game.
---
Grilling your ducks is the easiest, fastest, and most delicious way to serve up a great duck dinner.
---
Did you know that you can post your own helpful tips on our Facebook Fishing Reports page? YES! You can! You don't have to tell us your secrets, go ahead and brag a bit when you get a whopper! Click >>>
Minnesota Fishing Reports
.
| | |
| --- | --- |
| And … did you know that Jeff's Thursday Morning show is available for two weeks after the air date? Yes, you will never need to miss the show. Click on the image, then select the time of 6:00 a.m. on Thursday. Scroll until around 6:20 am and you are in business! | |