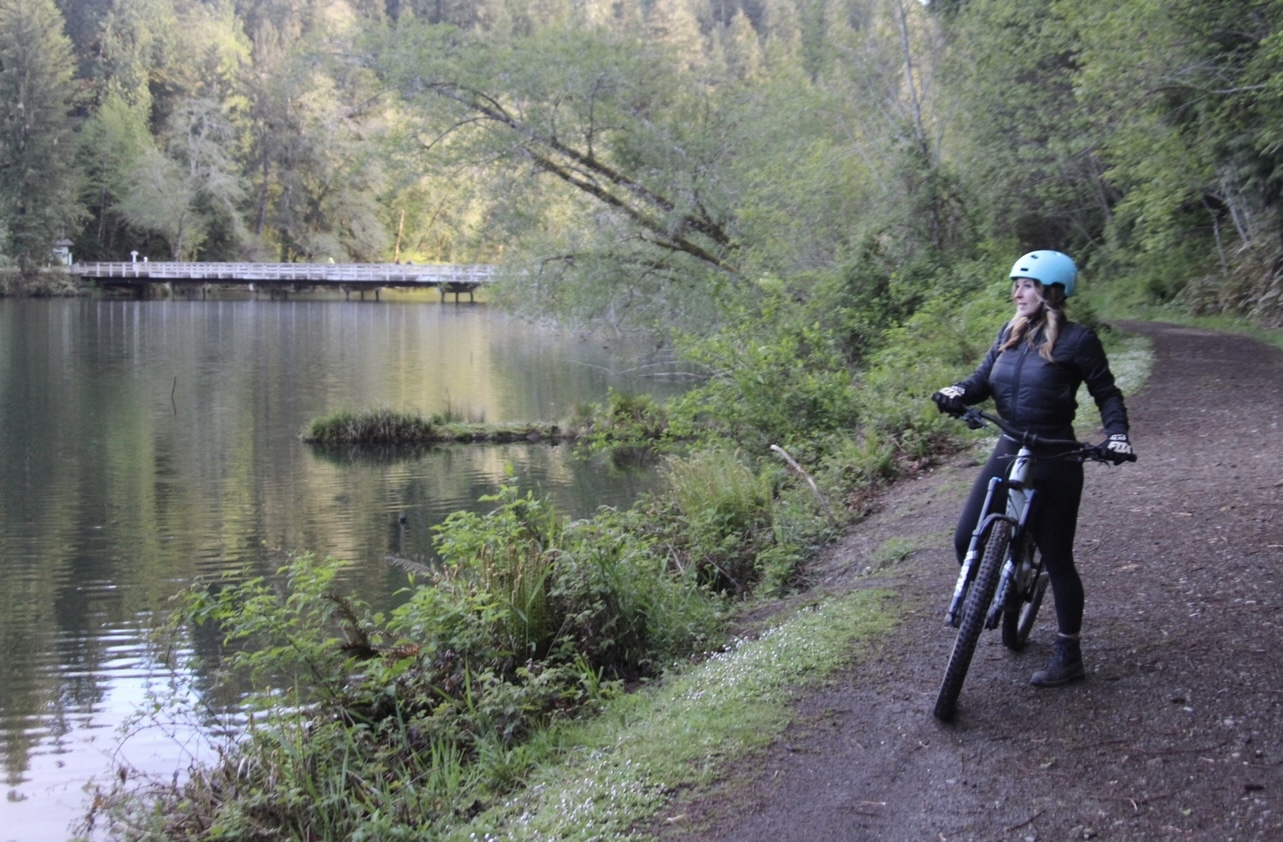 Grays Harbor Mountain Biking at Lake Sylvia in Montesano
PMost pandemic lifetimes have brought awareness to our innate desire to spend more time outdoors and find new hobbies and activities that improve the health of our minds and bodies. Whether you're a solo adventurer looking for your next opportunity to map the terrain in the beautiful forests of the Pacific Northwest, or a family looking to organize opportunities for local travel and nature exploration while staying active, Lake Sylvia State Park located in Montesano, offers some of the best mountain biking trails in Western Washington. Park trails connect to 5,000 acres of Montesano City Forest, a network of hiking and biking trails maintained by local cyclists and friends of Lake Sylvia State Park. The gateway to riding is located just 40 minutes from Interstate-5 and can easily be a day trip or a weekend getaway.
Lake Sylvia State Park is all about an experience. Setting up a tent or camper directly on the lake or nestled in the forest allows mountain bikers to create a base from which to play. Back at camp after hours of joyful discovery, take a refreshing dip in the lake for a swim. For those who want to catch and cook, get a fishing license from the Washington Department of Fish and Wildlife before your stay and drop a line. This particular lake is one of many lakes that have been stocked with trout and rainbow trout for the 2022 Trout Derby, as well as the opportunity to fish all year round. Grill your fresh catch for a lakeside sunset dinner before planning the next day's hike.
Trailforks has great trail reports, including maps and detailed information for any of the trails you'll discover as you venture through Grays Harbor County. From this link you can assess the level of difficulty as well as the opportunities for the electric bike. Montesano City Forest's three popular e-bike trails are listed as B-Line, G-Line, and Camp Creek Access. The e-bike offers extended mileage as they roll faster, have the ability to carry heavier gear, allow riders to conquer hills they might not have been able to access, and are exceptionally fun.
The Evergreen Mountain Bike Alliance is a non-profit organization and the largest national statewide mountain biking association. With a commitment to sustainable recreation, trail maintenance, advocacy, education, volunteerism and trail building, those looking to find more connections within a larger cycling community might want to become a member for courses, events or volunteering. Visit their Montesano City Forest page for navigation, stats, and ride reports for your next adventure through the Grays Harbor Walkway.
This slideshow requires JavaScript.
Sponsored