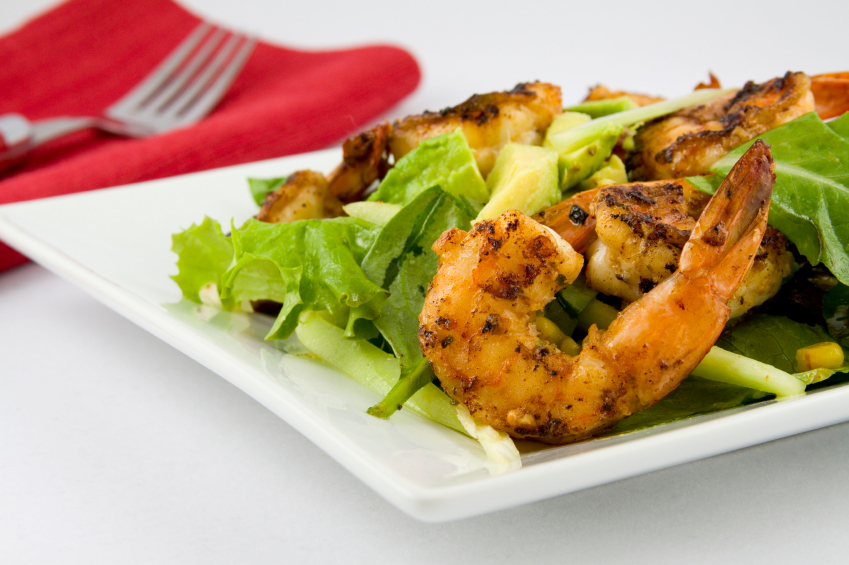 Healthy and delicious shrimp recipes
[ad_1]
If your protein choices usually alternate between chicken breast and pork tenderloin, it's high time to get out of the rut of your recipe. Shrimp are just as lean as these meats, at just 84 calories per 3-ounce serving, and maybe even more delicious. These five recipes will work best with the super seafood in your diet today.
1. Grilled shrimp salad with corn and avocado
Before you sigh at the thought of a salad for a meal, take a look at this flavorful recipe from Epicurious. It's filled with grilled shrimp, corn, avocado, and a sweet and tangy orange vinaigrette. Simply charred bread is a great way to round off the meal, but you can easily make it even better. As soon as the toast comes off the grates, rub it with a clove of garlic, then coat it on the cut side with a juicy tomato. Think of it like garlic bread with marinara.
Ingredients:
Bandage
6 tablespoons of orange juice
3½ tablespoons white wine vinegar
2 tablespoons chopped fresh chives
1½ teaspoons finely grated orange zest
¼ cup olive oil
½ teaspoon of truffle oil
salad
1 bag (10 ounces) red pearl onions
2 pounds large shrimp, peeled and deveined
3 large ears of corn, shelled
1 ciabatta or other crusty bread, cut into 1-inch-thick slices
Olive oil
2 teaspoons of hot smoked paprika
12 cups of lamb's lettuce
2 avocados, halved, pitted, peeled and cut into ¾ inch cubes
instructions: For the dressing, whisk the first four ingredients in a small bowl to combine. Incorporate the olive oil, then the truffle oil. Season with salt and pepper.
Prepare the grill for medium heat. Thread onions onto skewers and shrimp onto separate skewers. Place the kebabs, corn and bread on two large rimmed baking sheets. Brush the onions, shrimp, corn and bread with oil and sprinkle with salt and pepper. Sprinkle both sides of the shrimp with smoked paprika. Grill the onions and corn until cooked through, about 5 minutes per side. Toast bread until golden brown on both sides. Grill the shrimp until cooked through, about 2 ½ minutes per side.
Transfer the vegetables, shrimp and bread to a work surface. Cut the corn kernels off the cob and place them in a large bowl. Remove the shrimp and onions from the skewers and add them to the bowl. Add lamb's lettuce and avocado. Toss with just enough of the dressing to coat, and season with S&P. Transfer the salad to a platter and serve with bread.
2. Shrimp rolls
Shrimp rolls make a perfect lunch or dinner. We love Eat Well's easy recipe, which takes about 40 minutes. The buns are stuffed with lots of shrimp, green onions, mint, and sprouts, but you can add any fresh veg you have on hand. Thinly sliced ​​zucchini, cucumbers and carrots all add a bit of crunch. An easy dip made with lime juice, fish sauce and serrano peppers is the perfect finishing touch.
Even if you're cooking for one, you'll want to do the full batch. Leftovers make dinner the next day easier, and they're also packaged really well for a tastier lunch than any turkey sandwich. Just be sure to keep the rolls covered so the wrappers don't dry out.
Ingredients:
Rollers
12 ounces of raw shrimp, peeled and deveined
1½ cup mung bean sprouts
4 green onions, sliced
2 tablespoons of chopped fresh mint
1 tablespoon of fish sauce
1 tablespoon of lime juice
6 rice paper wrappers (8½ inches)
sauce
3 tablespoons of lime juice
3 tablespoons of water
2 tablespoons of fish sauce
1 tablespoon of sugar
1 garlic clove, minced
1 serrano pepper, minced
1 shallot, minced
instructions: Cook shrimp in boiling water until opaque in center, 1 to 2 minutes. Drain and run under cold water. Transfer to a clean cutting board to cool, then chop.
Combine shrimp with sprouts, 4 sliced ​​green onions, mint, 1 tbsp fish sauce and 1 tbsp lime juice in a large bowl. Working one wrap at a time, soak in a large bowl of lukewarm water until softened, about 30 seconds. Place the packaging on a clean, damp cloth. Add ⅓ cup of shrimp filling in the center, then fold the wrapper over the filling and roll into a tight cylinder, tucking in the sides as you roll. Repeat with the rest of the wrappers and filling.
Combine 3 tablespoons of lime juice, 3 tablespoons of water, 2 tablespoons of fish sauce, sugar, garlic, serrano and minced green onions in a small bowl until as the sugar dissolves.
Cut the rolls in half and serve with the sauce.
3. Shrimp gyros
Give your favorite Greek dish a new look by replacing the usual lamb with grilled shrimp. The fantastic recipe for So Tasty So Yummy looks awesome, but it is perhaps one of the easiest recipes. The shrimp are the only part that needs to be cooked, and you can also take this recipe outside if you prefer to grill. Simply thread the shrimp onto skewers so they don't fall through the grates.
Don't skip the tzatizki, as it turns this recipe from good to great. It's nothing more than cucumber, yogurt, salt and garlic. It's completely refreshing and the yogurt will give you even more protein and bacteria that are good for your gut.
Ingredientients:
tzatziki
1 English cucumber, peeled and cubed
2 large garlic cloves, chopped
1 teaspoon of kosher salt
24 ounces of plain Greek yogurt
Gyros
2 tablespoons olive oil, divided
Juice of two small lemons or one large lemon
1 teaspoon of red wine vinegar
1 teaspoon of oregano
½ teaspoon of salt
¼ teaspoon of pepper
1 pound of shrimp, peeled and deveined
Pita bread
1 tomato, chopped
1 cucumber, chopped
instructions: Add the peeled and cubed cucumber in a food processor and mix 5 to 8 times, until coarsely chopped. Drain the liquid from the cucumber and place in a medium bowl. Mince the garlic, then sprinkle with salt. Using the side of your knife, mash until the garlic forms a smooth paste. Add to the bowl with the cucumber, then stir in the yogurt. Cover and refrigerate until ready to serve
In a medium bowl, whisk together a tablespoon of olive oil, lemon juice, vinegar, oregano, salt and pepper. Mix the shrimp in the marinade and set aside 5 to 10 minutes. In a large skillet, heat the remaining oil over medium-high heat. Sauté shrimp until pink and cooked through, about 5 to 6 minutes. Serve with pita, tzatziki, tomatoes and cucumber.
4. Warm pasta salad with shrimp
Pasta doesn't have to involve a long-simmered sauce to be fantastic. A vibrant lemon mustard vinaigrette makes the perfect coating for some noodles and shrimp cooked in Cooking Light's Quick Recipe. Packed with protein from seafood and beans, carbohydrates from pasta and fiber from spinach, this dish is a complete meal. If you are very hungry, prepare a large salad to serve on the side. While this pasta is great right away, it also makes a great chilled salad later in the week.
Ingredients:
3 cups of farfalle
¼ cup fresh lemon juice
1½ tablespoons Dijon mustard
1 teaspoon minced garlic
¼ cup olive oil
½ teaspoon kosher salt
½ teaspoon freshly ground black pepper
Cooking spray
12 ounces of medium shrimp, peeled and deveined
1½ cup chopped fresh spinach
1 cup cooked, rinsed and drained cannellini beans
¼ cup minced red onion
2 tablespoons of chopped capers
instructions: Cook pasta according to package directions and drain.
Combine lemon juice, mustard and garlic in a small bowl and whisk to combine. Gradually stir in the oil and season with salt and pepper.
Heat a large nonstick skillet over medium-high heat and spray with cooking spray. Add the shrimp. Cook until cooked through, about 2 minutes. Stir in the spinach, beans, red onion and capers. Stir to combine. Add the pasta and dressing to the shrimp mixture and toss to combine. To serve.
5. Cajun Shrimps and Rice
Southern food has a bad reputation for wreaking havoc on size, but it doesn't have to be so. Explore the lighter side of Cajun with Food Network's Spicy Shrimp and Rice Dish. It's the perfect way to use up leftover rice for a quick meal that will hit the table in 20 minutes.
If you want to add even more nutritional value, go for brown rice instead of white rice. For even more heat, add a diced jalapeño or a few pinches of cayenne pepper. Cajun could become your new favorite kitchen.
Ingredients:
1 tbsp unsalted butter
2 tablespoons of extra virgin olive oil
3 garlic cloves, chopped
2 teaspoons of Cajun seasoning
1 pound large shrimp, peeled and deveined, tails left on
Kosher salt and freshly ground pepper
4 Italian tomatoes, chopped
2 bunches of green onions, chopped
3 cups of cooked white rice
3 tablespoons of fresh parsley
lemon wedges
instructions: Heat butter, oil and garlic in a large skillet over medium-high heat until garlic is fragrant, about 1 minute. Add the seasoning and the shrimp. Cook, stirring constantly, until the shrimp begin to curl, about 1 minute. Season with salt and pepper.
Add the tomatoes and green onions to the pan. Cook, stirring, about 1 minute. Add the rice and ¼ cup of water and continue cooking until the rice is heated through and the shrimp are cooked through, about 3 minutes more. Stir in the parsley and serve with lemon wedges.
More Culture Cheat Sheet:
[ad_2]