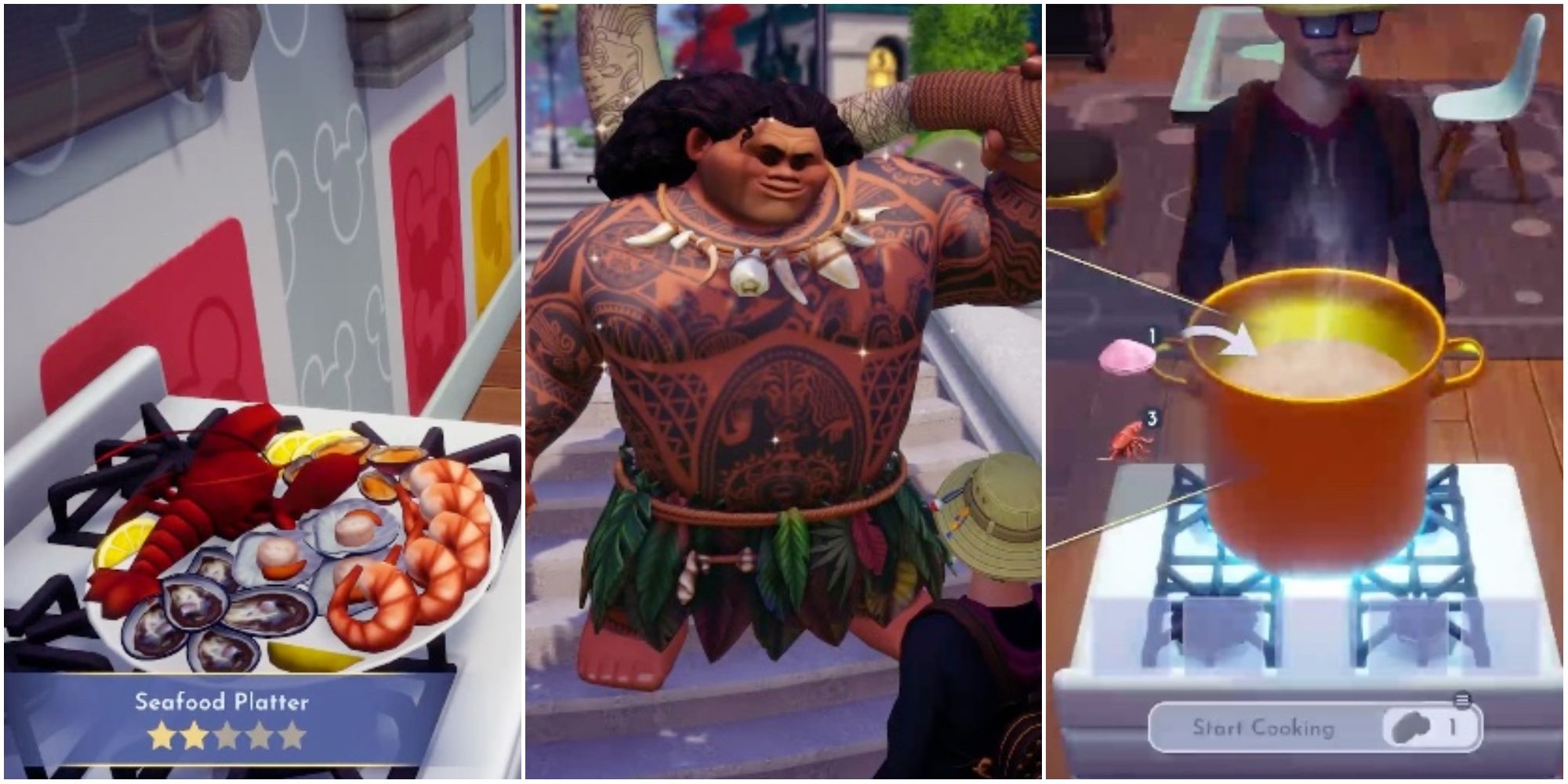 How to make a seafood platter
In Disney Valley of Dreams, players will sometimes need to cook meals for NPCs in order to complete friendship quests. By increasing the friendship levels of Disney characters, players can unlock rewards such as money and character-themed items.
One of the first quests players may encounter comes from Moana, and it's called Peacemakers. Basically, she feels bad for leaving Maui alone in their biome, so she wants players to help her cook meals. By giving the meals to Maui, she hopes it will cheer her up. There are three meals to cook, and Game Rant has Seafood Salad and Fruit Salad already covered. This guide will review how to cook the seafood platter in Disney Valley of Dreams.
RELATED: Disney Dreamlight Valley: All The Creatures And Their Favorite Food
How to make a seafood platter
The seafood platter is probably the second easiest of the group to cook, just behind the fruit salad. To do it, players only need two types of seafood. This includes things like shrimp, clams, and shellfish. Elements can also be of the same type. So players can throw in two pieces of shrimp or even two shells to create the seafood platter.
Shrimp can be caught using a fishing rod at Dazzle Beach. Once players get there, be sure to look around the sand for clams, scallops, and oysters. They can be picked up off the ground by going there and pressing the interact button. If there are no more on the beach, wait a few minutes for the objects to start reappearing.
After making the tray, go find Maui and give him all three meals for the quest. After, return to Moana, then she will task players with the next step in the questline.
How to make a great seafood platter
If players are looking for an easy-to-prepare 5-star recipe for friends, they can cook the Big Seafood Platter by adding four seafood and a lemon in a pan.
Eating the Large Seafood Platter restores 5,000 Energy and can be sold to Goofy for 1,564 Star Coins.
Disney Valley of Dreams is available in early access for PC, PS4, PS5, Switch, Xbox One and Xbox Series X/S.