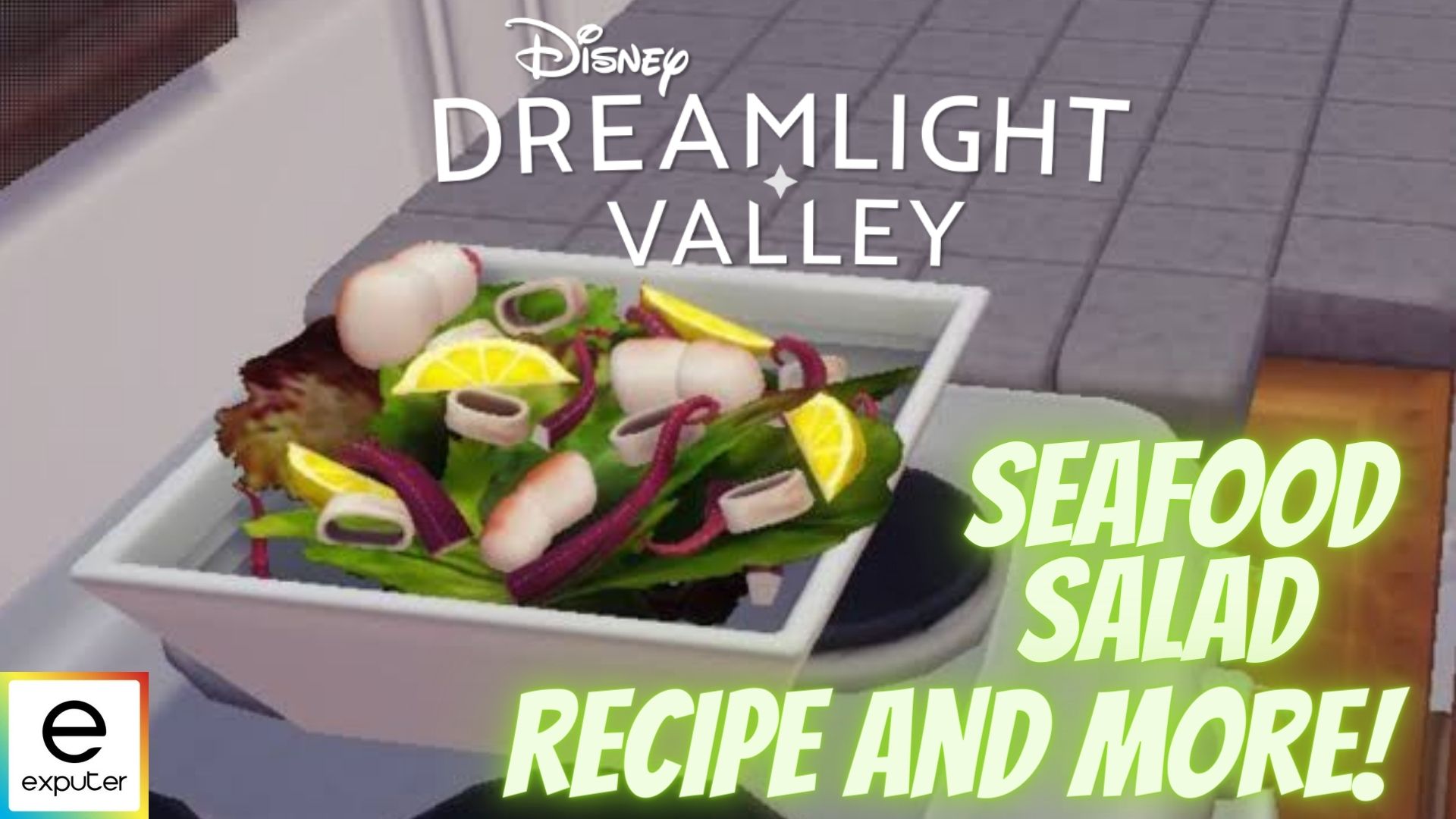 How to Make Seafood Salad at Disney Dreamlight Valley
Disney Dreamlight offers many fun activities for its players, and cooking is equally important and interesting. Here you will learn the recipe for Seafood Salad in Disney Dreamlight Valley and all about it. Check out our guide on how to get oysters and aquamarines at Disney Dreamlight Valley.
Disney Dreamlight Valley is a game full of life adventures including a bunch of quests to complete. Additionally, there are many acquaintances players will interact with from Disney and Pixar. You can also check out our guide on how to cook vegetarian stew.
As players set foot in the land of dreams and fantasies of Dreamlight Valley, they will uncover the history of the forbidden land. The valley now filled with dark magic was once full of life and fun. Moreover, all the villagers loved a fearless life with their families.
However, after the mysterious magic happened, everyone was deprived of their homes. Other than that, Disney Dreamlight Valley characters also had to fade from their memories. Now you are not only a game player but also a hero. Your job is to help the people of the village to recover their land.
What has attracted players to the game even more is the fact that they can hang out and have their lives alongside their beloved characters. From Disney's Mickey Mouse, The Lion King and Moana to Pixar's Toy Story, Disney Dreamlight Valley is full of surprises.
What do cooking quests offer?
There are a set of activities and missions that players will need to complete to advance in the game. Cook tasteful recipes with Remi in the restaurant and fish next to Goofy. And even grow crops and vegetables in WALL-E's vegetable garden.
Another interesting feature of the game is that players will be able to redesign their houses and even their characters. Build beautiful houses and customize characters as you wish.
All Disney Dreamlight Valley characters will assign players a task for them to complete. At the end of these missions, players will receive new rewards, unlock characters or new missions.
We'll cover the Moana mission given to players in our guide. In this, they will have to cook the seafood salad recipe. So, without further ado, let's get to it.
Moana's Quest
In Disney Dreamlight Valley, as players obtain an unlocked character, they will instantly be assigned a mission. For Moana's quest, she wants players to cook the recipe for Seafood Salad for Maui.
Completing the character quest will also increase the friendship level. The mission that Moana entrusts to you as soon as she is free and in the valley is called the "Peacemaker".
Peacemaker
The reason for Peacemaker's mission in Disney's Dreamlight Valley is that Moana is interested in knowing all the objects that players have, which by the way are very strange. Plus, Moana assumes Maui has a lot more information on these. items than she does.
But the sad news is that Maui is not on good terms with Moana because she left him alone in the kingdom when she went to the valley. However, Moana has all the plans to make him happy.
To do this, players in Disney Dreamlight Valley are expected to cook three different types of food. One of them is seafood salad. We have discussed all the information needed to cook the recipe in Disney Dreamlight Valley.
Get seafood salad
To prepare the seafood salad, players will need to use lettuce. Also, any type of seafood can be used to make the recipe. However, players should keep in mind that they cannot use an old, regular type of fish. It must be a seashell. It would be shrimp, lobsters and clams.
First, players need to locate a good stove and mix all the items together to make the seafood salad dish. The recipe has two stars and it would also restore players' energy for 570. Additionally, players can also sell it for 335 Star Coins.
Necessary items
Players would need all the necessary items to be able to start cooking seafood salad in the game. The best place to find all the items is at the Goofy stall. The booth is placed in Peaceful Meadows.
However, all the ingredients in her shop keep changing. Still, players can have Goofy sell them lettuce seeds for around three separate coins. In addition, Goofy will also be ready to sell you ready-to-cook lettuce. But the price for it is twelve pieces.
Now, to get a Seashell in Disney Dreamlight Valley, players can find Clams in Dazzle Beach. Clams or even scallops would be lying on the ground ready to be grabbed.
Additionally, players can fish a bit on Dazzle Beach to get Shrimp. However, it would be good if the player brings a partner with them to fish as this will increase the chances of finding shells.
Players can also use lobster to cook seafood salad. However, it can only be found in a location called the Glade of Trust biome. Additionally, players can easily find lobsters if they fish in the yellow-colored circles that also glow inside the water.
Summary
The kitchen is an important part of Disney Valley of Dreams. Additionally, cooking recipes to earn rewards and help characters is even more vital, and rewarding,
Make sure you get all the right items to cook seafood salad in Disney Dreamlight Valley and make Maui happy and solve Moana's mission to earn more rewards. Disney Dreamlight Valley can be played on PC, PlayStation 4, PlayStation 5, and Xbox Series of X and S.
Was this article helpful?
Good work! Thank you for giving your positive opinion ⚡
How could we improve this post? Please help us. ✍