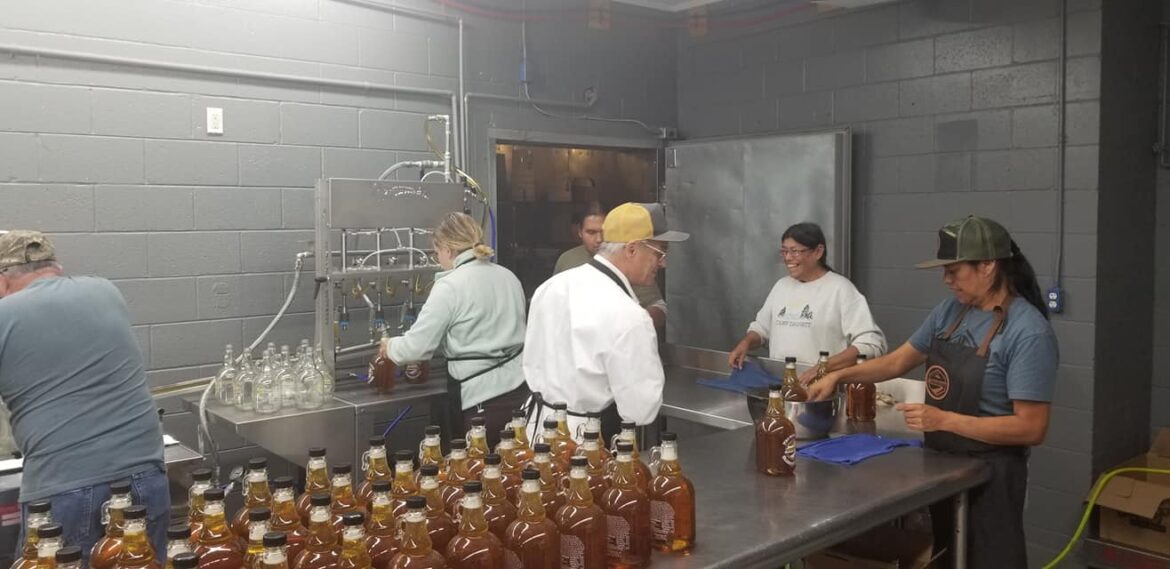 Indigenous entrepreneurs reclaiming the food system
By Kayla Nelsen
When Ziibimijwang Farm sells maple sugar at the Minongin Market in Mackinaw City, it's more than a business transaction – it represents Indigenous food sovereignty.
Further north, in the Upper Peninsula, partners Jerry Jondreau and Katy Bressette operate Dynamite Hill Farms in L'Anse.
"The way we put it is to 'come back to our responsibilities'," Jondreau said.
Social media and online sales have fueled both operations amid a growing availability of indigenous food resources nationwide.
"With colonization and residential schools, a lot of things were taken from us," said Joe VanAlstine, president of Ziibimijwang, Inc. "For us to come back and claim this, people are just hungry, no pun intended."
Minogin Market opened in 2018 in Mackinaw City's former fish market, Bell's Fishery.
VanAlstine and his colleagues reflected on how they could use the market to claim their Odawa Indian identity. Located at the tip of Michigan's Mitt, Mackinaw City was historically the commercial center of the Great Lakes region. Today, it is a gateway to the upper peninsula which has become a hotspot for tourism.
"You can go and buy one of these dream catchers made in China or you can come to Minogin and buy a real one, made by a real Native American," VanAlstine said.
Jondreau, the owner of Dynamite Hill Farms, said his origin was more tied to his relationship with the land as a tribal citizen.
"As the Ojibwa people, it is our responsibility to take care of this place and maintain a relationship," he said. "You can't do that if you're never there and you're not involved, just like a personal relationship."
Dynamite Hill Farms was established in 2019 after Jondreau left his teaching position at Michigan Technological University to continue mining maple sugar and harvesting wild rice. He uses the term "business" in a broad sense. The farm is a family function that he runs with Bressette, their children and the occasional volunteer.
"We think this is the real path to sustainability – the small scale," Jondreau said. "We do everything on a less formal basis. People will ask questions and we'll say, "You know what, why don't you just come camp here for the weekend? Come here and carry some sap with us and we'll have conversations.
As former teachers, education is at the center of everything he and Bressette do. Although Dynamite Hill products are available for purchase on Facebook, Jondreau prefers to make sales in person so that he can explain the process behind the food they harvest.
"It's not just about mining and selling, it's about healing and restoring," Jondreau said. "Was there any tobacco? Were there any prayers that were said to these trees when they were notched? These are the things that will create sustainability. These are the things that will again create the healing of this earth. "
Jondreau's alternative approach to business is what host Andi Murphy of "Toasted Sister Podcast," a radio show about Native American food, calls "Indigenomics." Making a profit is often idolized in the current economic system, she said. "But in Native America, we always think of our community and make it a better place and a better situation. This is the main difference.
Building indigenous food sovereignty by claiming the presence of indigenous products within the community of the Mackinac region and across the country is the mission of Ziibimijwang and Minogin Market, VanAlstine said. The farm also packs boxes of food for the elders of the tribe.
Additionally, Ziibimijwang partners with native chefs who use farm produce in their kitchens, VanAlstine said. Crystal Wahpepah, the first Indigenous chef to appear on Food Network, "Chopped," is one of the regulars of Ziibimijwang. "She buys us exclusively maple products. So we ship them all the way to California for her.
The farm is also in partnership with Tocabe, a contemporary Native American restaurant in Denver. The restaurant will soon launch Tocabe Express, a ready-to-cook meal delivery service that will include the ingredients and instructions needed to prepare the restaurant's most popular dishes at home. A featured Tocabe Express meal is maple-rubbed bison ribs.
"In this rub, they use our maple sugar," VanAlstine said. "So you will get maple sugar from us and they will tell you where all the ingredients come from. "
Reclaiming indigenous food is a way for VanAlstine to connect with its ancestors.
"I eat the same food as them," he said. "And it brings me closer to them, knowing that they've tasted the same fish as I have, from the same river and the same lakes. To me, it's joy – having more of our people feel that way.
Whether through a hands-on educational approach or through nationwide partnerships, Dynamite Hill Farms and Minogin Market are strengthening the presence of Indigenous agricultural wisdom in the United States.
"Getting excited about these indigenous flavors is the most important part of food sovereignty," said Murphy. "And that doesn't happen without the entrepreneurs who make it available. "