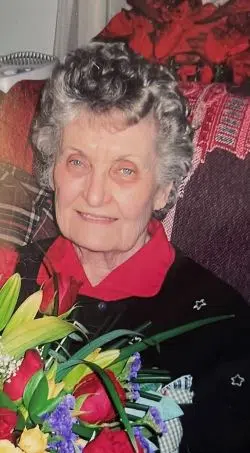 Margaret Barbara (Weidenbenner) Butzen, 96
Margaret Barbara (Weidenbenner) Butzen, 96, died Tuesday June 28 at her home. Visitation will be held Tuesday, July 5 at the Ottawa Funeral Home from 9:00 a.m. to 10:10 a.m., with the Holy Rosary at 9:00 a.m. A Christian burial mass will be held at St. Francis Catholic Church at 10:30 a.m., with Monsignor Mark Merdian officiating. Father Patrick Hirtz, Margaret's great-nephew, will concelebrate the Mass, along with Father Mike Adrie, a special friend of the family.
Margaret was born July 19, 1925, in Glennonville, Missouri, to William and Johanna Weidenbenner. She was the eighth of nine children. She attended a small public school taught by Catholic Ursuline nuns. She grew up on a family farm, learning to milk cows, cut and pick cotton, tend chickens, garden, sew, crochet, cook and fish.
Margaret married William Joseph Butzen on February 20, 1950, moving to the Butzen family farm in Poplar Bluff, MO, about twenty miles from her home. They raised four daughters, Joanne, Rita, Phyllis and Rosemary. They farmed there until 1965, when they moved to Ottawa, Illinois for better opportunities to support their growing family. Margaret valued her Catholic faith and insisted that each of her children receive a Catholic school education.
She held several jobs in Ottawa, starting as head librarian at St. Columba's School. She worked at several department stores as a clerk and as an assistant business manager, making many sacrifices so her daughters could attend St. Columba Elementary School, Marquette HS, and even Chicago Catholic Colleges.
Margaret was a wonderful wife and mother! She taught her daughters the skills she knew – sewing, crocheting, cooking, gardening, canning fruits and vegetables, caring for chickens, cutting and picking cotton, and loving hard work. She shared her many God-given talents with her family, relatives and friends – crocheting afghans, sewing clothes, doing various handicrafts, cooking and cooking delicious meals. She opened her heart and her home to her children and grandchildren, her brothers, her sisters, her nieces, her nephews, her friends and the lucky ones who were placed in her path!
One of his most cherished activities was attending daily mass after moving to Ottawa. In her later years, she loved watching daily Mass and praying the Rosary on EWTN, and spent many hours talking with her children, grandchildren, and a few nieces and nephews on the phone.
Margaret will be truly missed by her remaining family: her four daughters and their husbands, Joanne (Jim) Sheridan, Rita (David) Murdock, Phyllis Butzen and Rosemary (Kevin) Beever, as well as her six cherished grandchildren, Tony (Andrea ), Robert (Jennifer) and Michael Murdock, Joseph Butzen, and Michael and Therese Beever, his four great-grandchildren, Ryan, Corinne, Waylon and Alva Murdock, as well as his many nieces and nephews.
Margaret was predeceased by her husband, William, on November 1, 2021, her parents, William and Johanna Weidenbenner, her eight siblings, Tony, Willy, Minnie, Herbert, Teresa, Oscar, Othmar and Joseph, and a few nieces and nephews.
The online guest book can be viewed and memories shared at www.ottawafuneralhome.com
Ottawa Funeral Home and Crematorium
1111 LaSalle Street, Ottawa Illinois 61350
815-433-0300
www.ottawafuneralhome.com