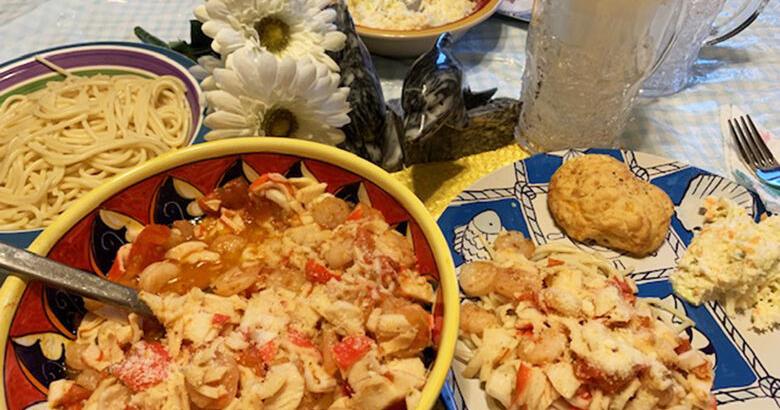 My Leader Yummy – Angel Hair Seafood | Receipts
After the holidays, we often crave something completely different from turkey or ham, and seafood is a great alternative. The choices are plentiful, including seafood-based pasta dishes.
Sometimes it's hard to please everyone when it comes to pasta because many people prefer red sauce over white sauce and vice versa. This Angel Hair Seafood Recipe may be the answer because it contains neither. Its sauce is based on olive oil and garlic.
The sauce is great because it really enhances the seafood, and since you're using angel hair, it's lighter and absorbs the delicious blend of flavors. Sprinkle a little parmesan over each serving and you have a dish the whole family will love.
This pasta is excellent with coleslaw, cheddar biscuits and lemonade.
ANGEL HAIR SEAFOOD
12 ounces uncooked angel hair
14 ounces medium uncooked shrimp, peeled and deveined
2 tablespoons olive oil
2 garlic cloves, minced
4 fresh tomatoes (medium size), chopped
1/2 cup chicken broth (reduced in sodium)
1 teaspoon of sugar
1 teaspoon chicken stock granules
1/2 teaspoon of salt
1/8 teaspoon black pepper
1 package (8 ounces) imitation crabmeat, chopped
Parmesan cheese, grated
Cook pasta according to package instructions. Meanwhile, in a large non-stick skillet, sauté the shrimp in the oil for 5 minutes or until they turn pink. Add garlic; cook 1 minute more. Remove the prawns and keep warm.
In the same skillet, combine the tomatoes, broth, sugar, broth, salt and pepper. Bring to a boil. Lower the temperature; simmer, uncovered, for 15 minutes. Stir in crabmeat and reserved shrimp; heat thoroughly.
Drain pasta; place pasta portions on plates and spoon seafood mixture over pasta. Sprinkle with parmesan and enjoy.
Brotherton offers website readers one Stellar Recipe per week in the "My Leader Yummy" feature. Looking for a recipe that you can't find? Email me at kbrotherton42@gmail.com and I'll see if I have it.