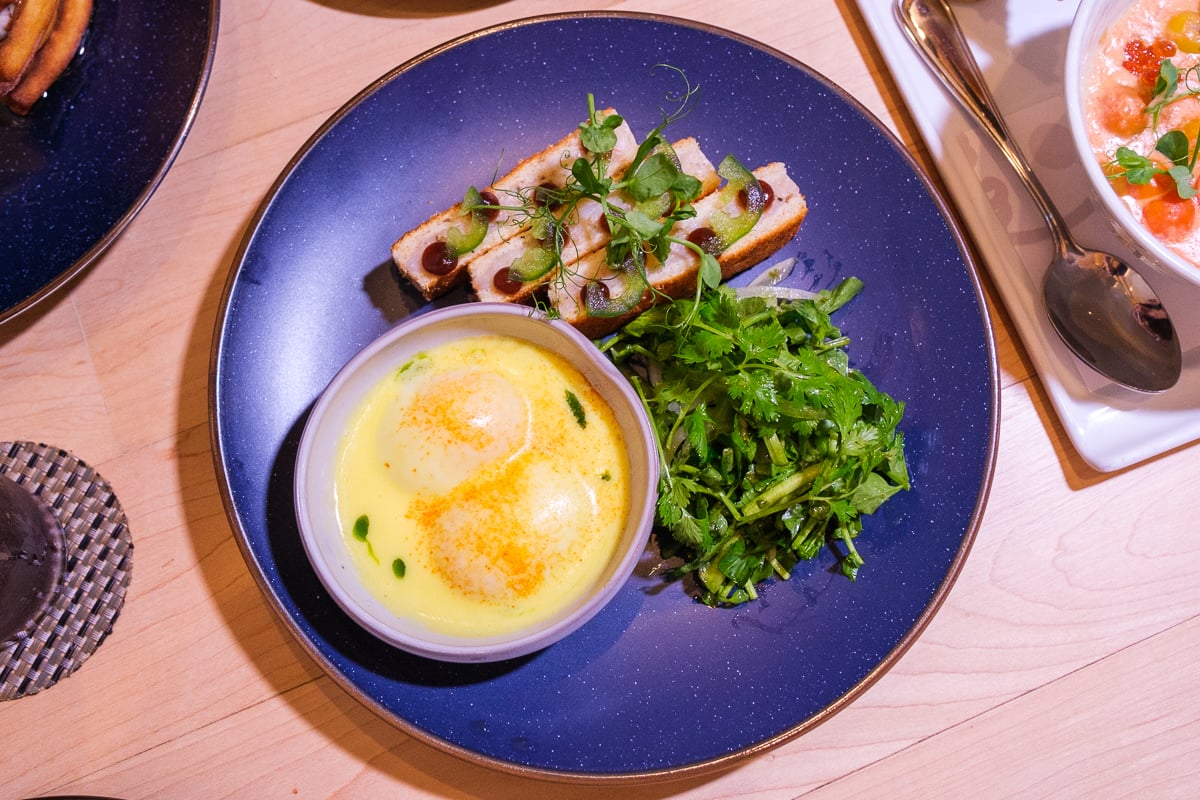 Nami Kaze Launches New Seafood-Focused Brunch at Pier 38
Brunch is not so much a meal as an occasion. Whether we're celebrating someone or in dire need of life support in the form of food and alcohol (more often than not), we can always count on a solid brunch to provide what we need. Jason Peel's Nami Kaze Izakaya & Sushi Bar does just that (except for the booze) and more.
If brunch at an izakaya sounds like an oxymoron, it's the first catering service for Peel and his team, who soft-opened Nami Kaze in January with take-out bento boxes and poke bowls. 'okazuya. The brunch menu, accessible exclusively via a laser-etched QR code on a wooden board, is extensive and reads very well. Our brunch group had a hard time deciding what we wanted to eat first. It might be better to order in sets rather than all at once, because you will literally want to try everything.
---
SEE ALSO: First Look: Nami Kaze, Okazuya Style Now, Izakaya Later
---
The extra-thick slab Custard French Toast ($18) had us with bright lime mango coulis and coconut tapioca. The buttery brioche-like bread made by Peel's wife, pastry chef Beverly Luk, soaks up custard in all her little pockets. The top shimmers with a wonderful texture of sago pearls, toasted coconut shavings, edible flowers and candied nuts.
Honey Walnut Shrimp and Waffles ($22) bridges the gap between sweet and salty. The twice-baked brown butter waffle resists crispy fried shrimp pieces dressed with apple slices, clusters of candied walnuts and maple syrup.
Omelets take the form of Chinese-style steamed eggs served in bowls and topped rather than filled. We order the mentaiko ($22), which also includes tomatoes, soy-marinated zuke ikura, and parmesan cheese. Other toppings include mushrooms, shrimp with crispy chili, and mapo atsuage, or spicy fried tofu. Dig through layers of umami to a jiggly, eggy nirvana. Stacked on toasted sourdough, these omelets make a great appetizer.
You can opt for white rice instead, but we found a side of hash browns ($6) to be the best vessel. Crispy potato sticks arrive stacked like a Lincoln Log cabin.
---
SEE ALSO: Istanbul adds Mediterranean brunch to weekends at Kaka'ako
---
Nami Kaze's Eggs Benedict ($23) makes you realize that the starch component of most Benedict is an afterthought. Peel's version replaces tired English muffins with crispy Hong Kong-style prawn toast. Poached eggs swimming in Hollandaise sauce are served in a bowl for whisking and dipping, a treat that keeps the toast crispy and the eggs warm. I like the sharing aspect, which makes it easier to try more dishes.
And since it's peak time for tomatoes, Hau'ula Summer Tomato Salad is a must. Fried tofu, juicy tomatoes, wonton strips and watercress marinated in a green onion and fresh ginger sauce with a sprinkle of shoyu zuke. We cleaned this bowl.
Now we are tapping, but we haven't even scratched the surface. There's always the Japanese Teishoku Breakfast Sets ($25-$34) and People's Choice ($24), which includes Nami Kaze's favorite ginger fried chicken okazuya and a choice of 'ahi poke. ' costs. There's also an assortment of moriawase sashimi, chirashi bowls, sushi rolls, and seafood sandwiches that we're too full to even consider.
We tell Peel that every dish we tried was full of love. Peel says coming to work every day is like coming home to a house full of friends and family. If brunch is any indication of how Nami Kaze arrives dinner service could play, we keep our eyes peeled. Peel says it's coming very soon.
Open Wednesday through Friday 10 a.m. to 2 p.m., Saturday and Sunday 9 a.m. to 2 p.m. 1135 N. Nimitz Highway, (808) 888-6264, opentable.com/r/nami-kaze-honolulu, @namikaze.hi