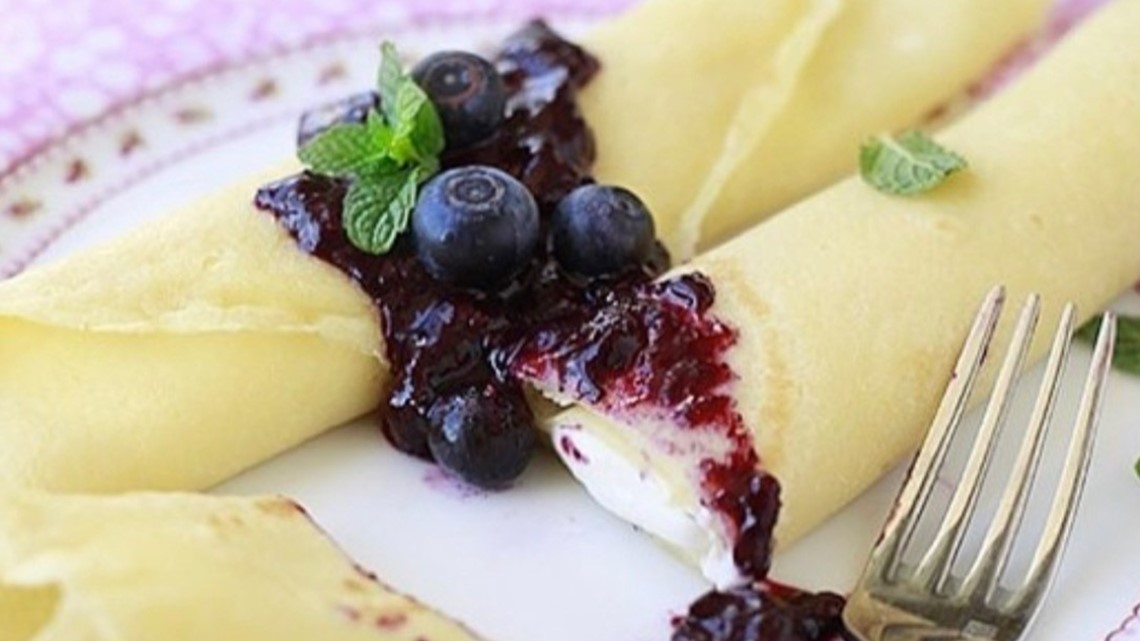 Recipes for pancakes with seafood and dessert
Chef Kevin shows you how to make pancakes, whether you want them as a meal or as a dessert.
2 cups all-purpose flour
1/2 tsp. kosher salt
4 eggs
1 cup milk
1 cup of water
4 tbsp. melted butter
Whisk flour and salt together in a large bowl.
Mix eggs, milk, water and butter. Using a hand mixer, mix until smooth.
Lightly brush an 8-inch skillet or pancake pan with butter and heat until bubbly over medium heat.
Pour in 1/4 cup batter and stir to coat pan.
Bake until top is dry and bottom is light. Flip and cook the other side.
Stack on top of each other and keep warm.
You can make the pancakes ahead and stack them with waxed paper between each one, and refrigerate for up to 2 days or freeze for up to 3 months.
Seafood Pancakes
6 mushrooms, chopped
3 tbsp. sliced ​​green onion
3 tbsp. butter
2 garlic cloves, minced
3 cups crawfish and shrimp, cooked and chopped
1⁄4 cup heavy cream
4 oz. cream cheese, cubed
3 tbsp. chopped parsley
2 tbsp. Creole seasoning
1⁄2 tsp. kosher salt
2 tbsp. sherry wine or apple cider vinegar
16 pancakes
1 cup Pepper Jack cheese, grated
1⁄4 cup green onions, chopped
Preheat the oven to 350 degrees and lay out 2 baking dishes (7 x 12 inches).
Saute mushrooms and sliced ​​green onion in butter until tender; stir in garlic. Add the seafood, cream, cream cheese and parsley to the skillet and season with Creole seasoning and salt. Cook, stirring gently over medium heat, until cheese is melted. Stir in the sherry or apple cider vinegar.
In each crepe, place 1/4 cup seafood filling, roll up and place seam side down in a baking dish. Top pancakes with pepper jack cheese and green onions and bake until pancakes are hot, about 15 minutes.
Lemon pancakes with blueberry glaze
2 cups flour
1/2 teaspoon of salt
4 eggs
1 cup milk
1 cup of water
4 tbsp. butter,
the melted zest of 1 lemon
2 tbsp. lemon juice
Blueberry Cream Cheese Filling
8 oz. softened cream cheese
1/2 cup powdered sugar
2 tbsp. lemon juice
Zest of 1 lemon
1 C. vanilla
3/4 cup blueberries
Sift together the flour, salt and set aside.
In a large bowl, combine the eggs, milk, water, butter, lemon juice, lemon zest and whisk until combined.
Stir in flour mixture until smooth with no lumps.
In another bowl, add the softened cream cheese, powdered sugar, lemon juice, lemon zest and vanilla and beat with an electric mixer until smooth and well blended.
Add blueberries and mash with a fork until combined.
Set aside and while it sits, the blueberry juice colors the filling a light purple.
Heat a lightly greased skillet over medium-high heat and pour in about 1/4 tsp. batter in skillet.
As you pour the batter, swirl the pan with your other hand to spread the batter into as thin a circle as possible.
Bake until top is dry and bottom is light.
Flip and cook the other side.
To serve. with blueberry filling. Top with more lemon zest, drizzle with maple syrup and sprinkle with powdered sugar.
RELATED: Recipe: Chef Kevin's Herb Monkey Bread for Thanksgiving
RELATED: Recipe: Chef Kevin's Chocolate Mousse