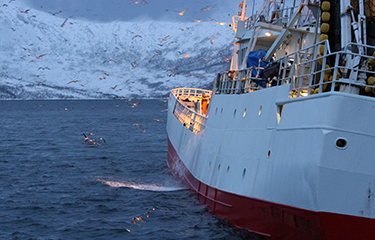 Record start for Norwegian seafood exports in 2022
Norway exported NOK 10.3 billion ($1.2 billion, €1 billion) worth of seafood last month, the highest January value ever achieved by the Scandinavian country.
The country achieved a gain in export value of 26%, or NOK 2.1 billion (USD 238.9 million, EUR 208.7 million), during the month, despite a 17% drop in volume.
"January of this year yielded the highest export value on record, and the strong trend therefore continues from 2021. Despite the challenges related to the corona pandemic, the prices of many of our products have increased This was also a January record in value and volume for salmon," said Renate Larsen, CEO of the Norwegian Seafood Council (NSC). accounted for 70% of the total value.In overseas markets such as North America and Asia, restaurant openings and improved logistics have led to export growth, especially for whole fresh salmon.
According to Larsen, there was a clear difference in export trends in January. While fish from aquaculture grew in value by 42 percent, there was a decrease in both volume and value on the wild catch side.
"Sometimes bad weather presented challenges for the fleet. Yet, thanks to significant growth in demand in the markets, the value of several wild-caught products has increased, including cod and saithe," she said.
NSC reported that in January, Norway exported 196,500 metric tons (MT) of farmed Atlantic salmon, worth NOK 7.2 billion (USD 818.6 million, EUR 715.4 million). Compared with the corresponding month of 2021, the volume and value of exports last month increased by 2% and 41% respectively.
France, Poland and the United States provided the main markets for the species, with the share of salmon exports to the EU rising from 67% to 60%.
"In general, we are seeing a shift to foreign markets for salmon. Markets such as Poland and Lithuania, which process most salmon into smoked products, are reducing their imports. This is linked to the substantial increase in prices "said Paul Aandahl, an analyst at NSC Seafood.
Norway also exported 4,400 tonnes of trout worth NOK 338 million (US$38.4 million, €33.6 million), with export volume and value increasing by 16% and 57% respectively. %. The United States, Thailand and Japan supplied Norway's largest trout markets.
From its whitefish sector, Norway shipped 4,800 tonnes of fresh cod in January, fetching NOK 260 million (USD 29.6 million, EUR 25.8 million) – up 23% and 44%, respectively – the Denmark, Sweden and Spain providing Norway's main markets. Export prices climbed to NOK 66 (USD 7.50, EUR 6.56) per kilogram during the month.
Meanwhile, the country exported 11,800 tons of frozen cod, worth a record NOK 482 million ($54.8 million, €47.9 million), with exports up 70 % in volume and 84% in value compared to January 2021. The United Kingdom and the United States were the main markets for the product.
The Norwegian pelagic sector exported 19,200 tonnes of herring, worth NOK 251 million (USD 28.5 million, EUR 24.9 million), with volume and value down 46% and 28% respectively. It also sold 25,200 tonnes of mackerel worth NOK 464 million (USD 52.7 million, EUR 46.1 million), down 39% and 26%. Poland, Lithuania and Germany offered the biggest markets for Norwegian herring in January, while South Korea, China and Japan were the main markets for the country's mackerel.
Bad weather, purse seiners fishing for capelin in Iceland, and a lower quota for spring-spawning Norwegian herring were the main reasons given by NSC for the lower than normal herring catches.
Weather conditions and an expected lower quota also contributed to the reduction in mackerel landings. However, mackerel exports were still at a high level compared to all previous years, with the exception of January 2021, which set an export record.
The Norwegian shellfish industry exported 132 MT of king crab worth NOK 77 million (USD 8.7 million, EUR 7.6 million), representing a 55% drop in volume and a 20% lower value. %. The United States, South Korea and Denmark were the biggest markets for the product.
It also sold 909 MT of prawns worth NOK 69 million (USD 7.8 million, EUR 6.9 million), with export volumes and value up 3%. The United Kingdom, Sweden and Finland were the main destinations for Norwegian prawns.
In 2021, Norway exported 3.1 million tonnes of seafood products worth NOK 120.8 billion (US$13.7 billion, €12 billion), the volume of trade and the highest total value ever recorded.
Photo courtesy of Alessandro De Maddalena/Shutterstock