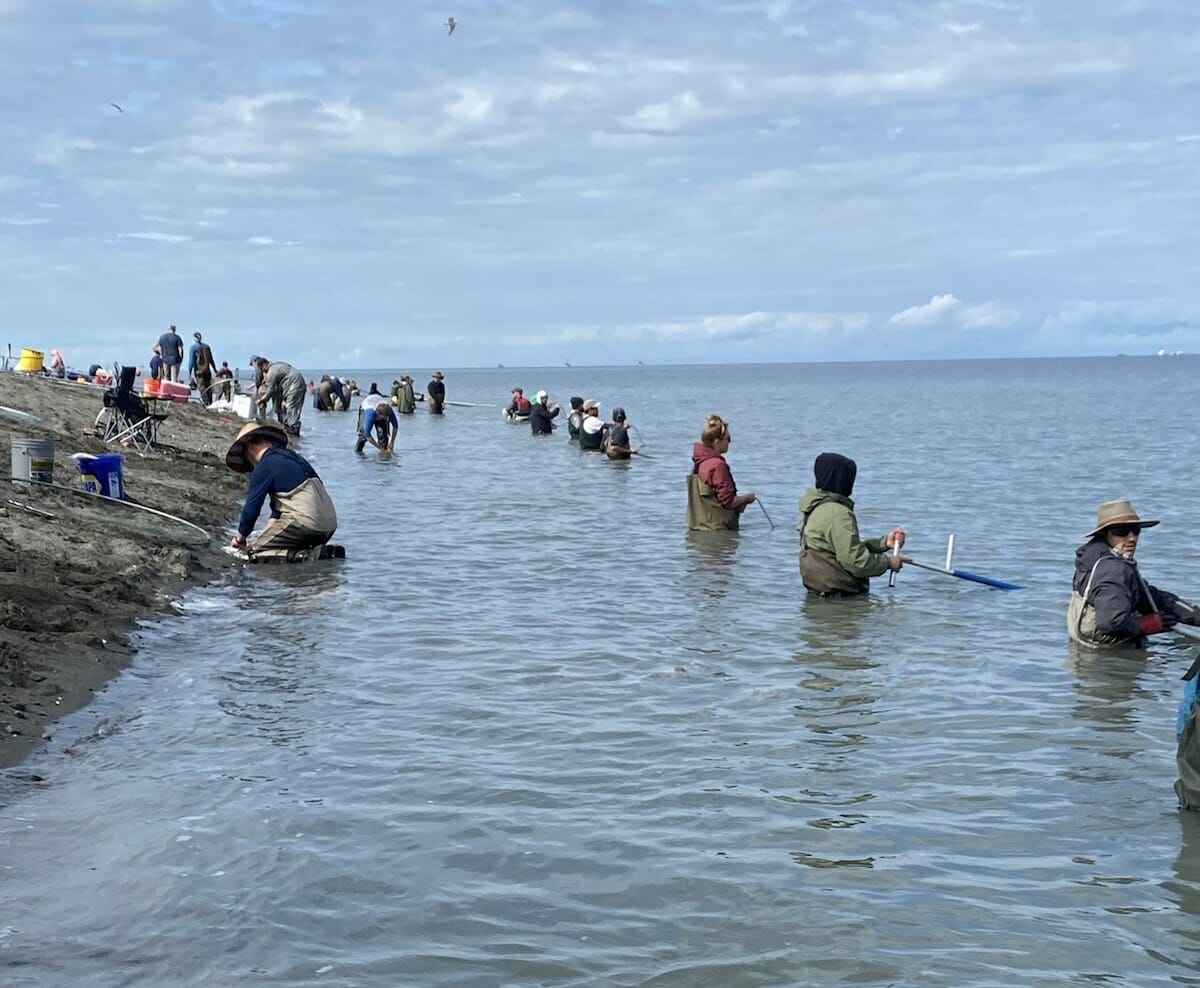 "Red" Scare: A Day on the Kenai
There's nothing crazier in Alaska than a seven-year-old driving a $30,000 side-by-side. As I haul a bloody, sandy load of fish down Kenai Beach, feet dangling in my waders from an unidentified pinhole leak, the child in question runs past me screaming, tires ITP Mud-Lite vomit sand, with a motley assortment of its minor associates riding a shotgun. The kid's on a mission, and as he slows the Can-Am Defender until it stops to let me pass, his equally tiny friend yells, "What's the DEALIO?" Why are we STOPPING? »
Each winter, gray whales migrate 12,000 miles south to the warm waters of Baja California to breed and give birth. They then make the journey north in the summer to feed on northern Alaska's abundance of fish and plankton, which grow strong in the cold waters of the North Pacific. And every year, Alaskans take the same trip — boarding low-cost airlines and slathering on cheap sunscreen in the dead of winter to frolic, party and conceive on the beaches of Maui, Cabo and Palm Beach. But summer is fishing season.
The South Beach where the Kenai River meets the Cook Inlet looks nothing like a Mad Max movie between takes. Almost every type of four-wheel-drive vehicle is represented here: bumpy Suburbans, jacked-up Tacomas, trailer-hauling F-150s, Kias, Hondas, Datsuns, Suzukis, they all start to blend into one cacophonous blur of revving engines, spinning wheels, and flying sand.
Advertising. For more information on buying ads, please click here.
To access the South Beach, you must pay the entrance fee (a number that seems to increase every year, but today it's $22) turn off the dirt road, then carefully (but quickly) follow the tracks that were left for you by another driver on the beach for maybe half a mile. Too fast, and you'll lose control – too slow, and you'll lose momentum, requiring a tow from a diesel driver hiding a smirk.
But he'll pull you out if the situation calls for it, and the guy standing next to you will help push your fish-laden sled if your four-wheeler can't get it from a clean stop, and l 'nurse take the PTO to limit the reds will offer you a bloody baseball bat to dispatch your catch as it crumbles on the sand, and the National Guard guys left and right of you smoking Marlboros and drinking King Street IPAs will jump on your salmon if it jumps out of your net and appears to be headed for the river. I know, because I've seen him do a hundred times in two days – a thousand little acts of brutal kindness.
The beach is the "level playing field" politicians always seem to refer to – everyone here is chasing one thing. Each ethnic group is represented and a hundred different languages ​​float in the air in a rich sound tapestry. For every white anarchocommunist who fears reading Utne, drinking vegan matcha and pretending to talk about a 'totally free agrarian society', there are fifty people sweating in harmony with each other on Kenai Beach. , waiting to sprint to the sand and try to carry a red, flipping and splashing, in their battered Yeti cooler.
In concept, the landing net is simple. Every year, in late summer, millions of sockeye salmon swim up the Kenai to spawn. It's your job to intercept them, standing in the water with a large, long-handled net, waiting for a fish swimming upstream to bump into it. It's a style of fishing so simple that a child could figure it out (and many do, under threat of parental punishment) and so effective that it's restricted to residents only, for personal sustenance. Anything you catch here goes in your freezer, smoker, or cooking pot.
As you wait in the water, shivering, dodging the wake of boats coming and going, you catch little snippets of conversation.
"A friend of mine…he was on a flat-bottomed river boat, the most dented thing I ever seen, maybe 15 feet long, like that over there…he was on the boat with a friend and they were crossing the creek maybe ten years ago… and all of a sudden a beluga whale jumps out of the water right in front of them – SCREAMING – and right behind it? where I stand to the truck…"
Four-wheeled vehicle is not a requirement, but it certainly helps when after six hours of gill jumping and net hauling you're tired of the dog, but there's 150 pounds of fish to haul up the car. All around, Yamaha Grizzlies, Honda Ranchers, Can-Am Outlanders and Kawasaki Brute Forces roam around, pulling sleds and trailers and sometimes entire families from the car to the beach and back again. My own rig, a mid-'90s Suzuki King Quad that I nicknamed the "Roach" for its battered plastic fenders and perceived "indestructible" status, is waiting to pull my fish to the car, or me to the dependency, as the case may be.
Advertising. For more information on buying ads, please click here.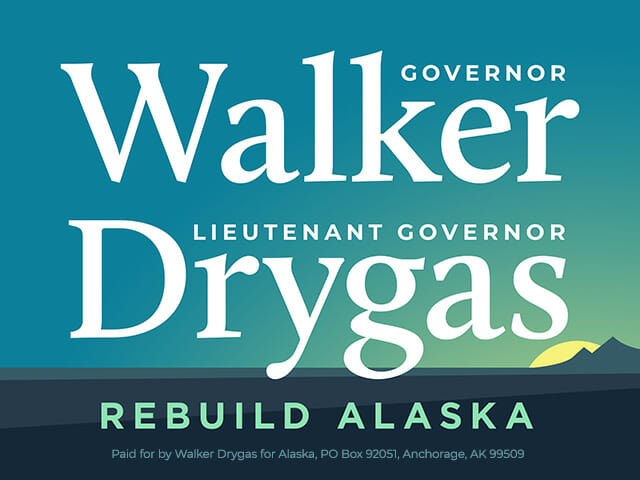 "I take a sip of beer – the fish will strike. I light a cigarette – the fish will strike. And then I'll have to take it out and I'll spill my beer or drop my cig, but if I don't have either, there's no fish. So I can't have fucking SHIT, that's what I get out of it.
As I look up and down the beach, watching the scene and watching, like Bateman, all the different brands of mountain bikes, my net shakes and I put my Montucky Cold Snack back in the front pocket of my wader. (The guy drinking a Coors to my left expressed his desire for a wader with a cup holder, and I have to say I agree with him.) I splash out of the water, cast the net on the bank and pull out my catch. He's good and stuck, plugged into the fibers of the nylon landing net, and as I untwist the net and pop his gills, sending a spurt of blood and drool down my arm, I can't help but feeling a bit sad, as I guess many do.
Like me, all that little chrome asshole wanted was to get fucked – in fact, he spent the last of his energy riding the Kenai to shoot a load at eggs, then die, in a runaway of post bliss -coital. Instead, however, he throws his last into a bloodstained Igloo cooler. There, but for the grace of God… something, something.
"Listen man, you don't want to take off straight up the hill, because that cargo sled, all it wants to do is dig in the sand. Start the wheel on the side, let it pick up speed, then drive up the hill. She'll carry a fucking grizzly bear if you start well…"
The tide changes, the current quickens and it becomes more and more difficult to keep my net straight ahead. The guy next to me, playing Alabama Shakes on a waterproof speaker strapped to his stilt-walker strap, looking vaguely Unabomber-esque in a hoodie and sunglasses, is also in trouble. At this point in the process, things will generally change from a static net line to mass marching upstream and drifting downstream, working with the current in a loop of several hundred yards. So I and thirty or forty other beleaguered and soaked fishermen get out, plod up the beach, into the water, and back downstream, pulling back to repeat the process when we reach the line of motionless resisters, stubbornly struggling against the current, or when catch us a fish. It sounds simple, but after the twentieth or thirtieth loop, dodging handles of netting, fingers bleeding from sharp salmon gills, feet soaked and blistered inside ill-fitting waders, it feels like nothing. less than a Bataan Sub-Arctic Death March.
So why do it? Why subject yourself to this kind of low level fishing torture early in the morning – it's loud, not particularly glamorous and crowded. For the price of gas and parking, you can float down the river and at least get a good view of the whole transaction.
We do it for the same reason people go to Costco – sacrifice luxury and aesthetics for a bulk acquisition of highly desirable, organic wild protein. Maybe that metaphor is a bit crude, but it's the truth. The Kenai, despite all the criticism it can get from fishing snobs, is very good at producing bulk sockeye salmon for the personal subsistence fisherman.
But I think there's a little more than that, a kind of deeper instinct that drives people to the river in droves in July. They go there, the people who have been doing this for years, even decades, for the same reason that elephants migrate and ducks fly south for the winter. Go where the food is. The lizard-brained freelance columnist, driving a battered Chevy Suburban, can figure this one out as easily as any Izaak Walton, outfitted with a bamboo fly rod and a raised eyebrow.
A disheveled-looking mum walks past me as I assemble my net. "Did you see a little boy running past here?" she asks frantically, and I didn't, I'm sorry. But not 30 seconds later, a tall guy in an Alaskan Amber sweatshirt, gently holding a little boy's hand, walks by and calls asking if "is anyone missing a child?" I point it in mom's direction, and soon there's a meeting on the beach. The piqueurs watch over themselves.
Jacob Hersh was born and raised in Anchorage, Alaska. He recently earned a degree in political science from Washington State University. He's back in Alaska to take a year off before going to law school. He was described as neurotic, emotionally distant and unhealthily obsessed with national politics – all by the same person.
Advertising. For more information on buying ads, please click here.