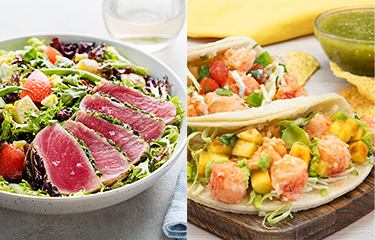 Restaurants bet on seafood promotions to boost summer sales
With restaurant traffic declining due to inflation, many restaurants in the United States are offering special seafood menus and dishes to support sales for the summer.
Food inflation and rising costs caused the average price of a restaurant meal to rise 9% in April compared to April 2019, according to the NPD Group. This price increase coincided with a 4% drop in restaurant visits in April.
Full-service meal prices have risen 8.7% and takeout prices have risen 7.2% over the past 12 months, according to Consumer price index The data.
"Rising prices are putting pressure on consumers which is contributing to the slowdown in the restaurant industry. For many consumers, it is more affordable to eat at home," NPD food industry adviser David Portalatin said in a press release. "This is when carriers need to demonstrate their value to consumers struggling with inflation and be solution-oriented to help consumers meet needs at all stages of life."
However, consumer spending at restaurants rose 1% in April due to inflation, NPD Group found. And industry experts are optimistic about restaurant sales this year due to pent-up consumer demand.
To spur interest in dining out, many independent restaurants and chain restaurants have increased seafood offerings for the summer, and many are offering seafood at a bargain price.
For example, Taco del Mar, based in Denver, Colorado, USA, is bringing back its annual summer lobster taco offerings. Customers can choose between its classic lobster taco, served with white Baja sauce and pico de gallo, or the tropical lobster taco, served with mango salsa and cilantro-lime dressing.
"We're always inspired by coastal flavors and love seeing customers embrace those flavors, especially when the temperature starts to turn up," Vice President of Culinary Innovation Mike Gieseman said in a press release.
Cheyenne, Wyoming-based Taco John's is offering a three-for-US$6.00 (EUR5.70) deal on its new Mango Shrimp Street Tacos. The limited-time offer includes crispy shrimp, store-fresh mango pico de gallo, chimichurri sour cream and lettuce, wrapped in a soft cornmeal mix tortilla.
"Mango Shrimp Street Tacos in assorted flavors are the perfect menu item for those with an adventurous palate looking for a bold, elevated experience at an incredible price," Taco John's said in a press release.
Chili's Grill & Bar is another restaurant chain focused on value-conscious diners, which recently launched a "3 for me" promotion. You can order personalized meals including a soft drink, appetizer and main course, starting at 10.99 USD (10.46 EUR). The promotion includes new dishes such as baked seafood pasta and carne asada.
Pokeworks, based in Irvine, California, USA, is teaming up with surimi supplier Aquamar for a limited-time spicy and crispy surimi bowl. A portion of the proceeds from each bowl sold over the summer will "demonstrate the brands' shared support for the Asian American and Pacific Islander (AAPI) communities," Pokeworks said in a press release.
"This partnership will not only be represented in the premium plant-based surimi and seafood offerings, but in the ethics and conscience around their joint support of Heart of Dinner, a non-profit organization which serves meals to food-insecure Asian seniors in New York," Pokeworks said.
Orlando, Florida, USA regional restaurateur Marlow's Tavern is also offering several new seafood dishes on its summer menu, including blackened fish, with "Paul's secret spices", rice basmati, maque choux (okra, corn, red pepper and onion), and tomato beurre blanc; Grilled Atlantic salmon with dill cream, fresh quinoa tabbouleh and extra virgin olive oil; and Carol's Lobster Roll, which features steamed lobster, old bay, and chives served Maine or Connecticut style on a brioche bun.
Urban Plates, based in Del Mar, California, USA, specializing in "healthy, made-from-scratch meals at affordable prices", recently unveiled two new dishes made with sustainably caught and of wild ahi tuna, the company said in a press release. Release.
His roasted barramundi sea bass plate features herb-crusted, BAP-certified barramundi sea bass marinated in a cilantro-lime sauce, garnished with fresh herbs, then roasted in the oven and finished with a lemon hollandaise sauce made home. Urban Plates' new Wild Ahi Nicoise Salad features line-caught tuna, crusted and pan-fried organic artisanal lettuce, green beans, chopped organic eggs, organic tomatoes, seasoned Yukon Gold potatoes, capers, marinated olives and house mustard -champenoise vinaigrette.
Meanwhile, Bonefish Grill, based in Tampa, Florida, USA, is offering wood-grilled shrimp skewers with a herb-and-citrus marinade, plus rice and broccoli for $17.90 ($17). .00 EUR).
Photos courtesy of Urban Plates and Taco del Mar