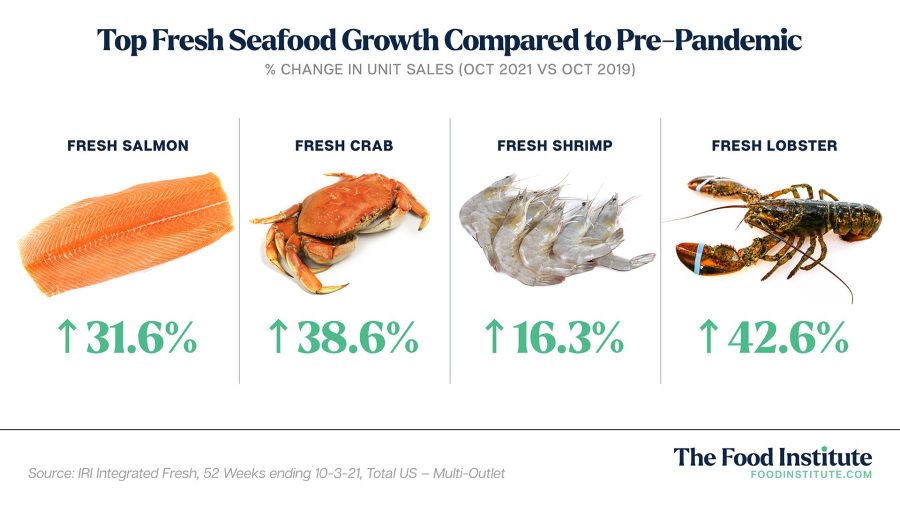 Seafood sales are riding the wave of the "Blue Food" movement
Seafood sales continue to increase at the grocery store as health and environmental benefits drive more consumers to turn to "blue foods" and restaurant accessibility continues to evolve.
Overall category sales totaled $ 16.8 billion for the 52-week period ending October 5, up 5.4% from a year ago and 31% higher than two years ago, according to IRI data.
As shelf-stable seafood continued to slide across the board given strong demand in the early months of the 2020 pandemic, dollar sales of frozen and fresh seafood topped $ 7 billion. dollars, with the corresponding unit and volume figures continuing to show traction.
The growth trend is largely due to the impacts of the pandemic on restaurant operations, noted Joe Bowab, founder of Lobster Anywhere, a wholesale supplier of live lobsters from Maine.
"It's evident everywhere, from large retailers to discount chains and regular supermarkets," Bowab said. The Food Institute. "Buyers who rarely cooked seafood before decided to put salmon, shrimp and lobster on their own kitchen tables. "
Notable purchasing changes
Frozen foods were the best performers in 2020 and this trend continued in 2021. By type of seafood, frozen fish dominated annual unit sales at 3.2 billion, up 24.8% from compared to 2019, while the second largest segment, frozen raw shrimp, saw a monumental increase of 55.7% over the same period.
In the fresh produce category, salmon had a significant lead in unit sales year over year, with shellfish completing the range of the top four selling species.
Comparing sales to 2019, fresh lobster was up 42.6%, followed closely by fresh crab, both of which are traditionally restaurant-friendly offerings.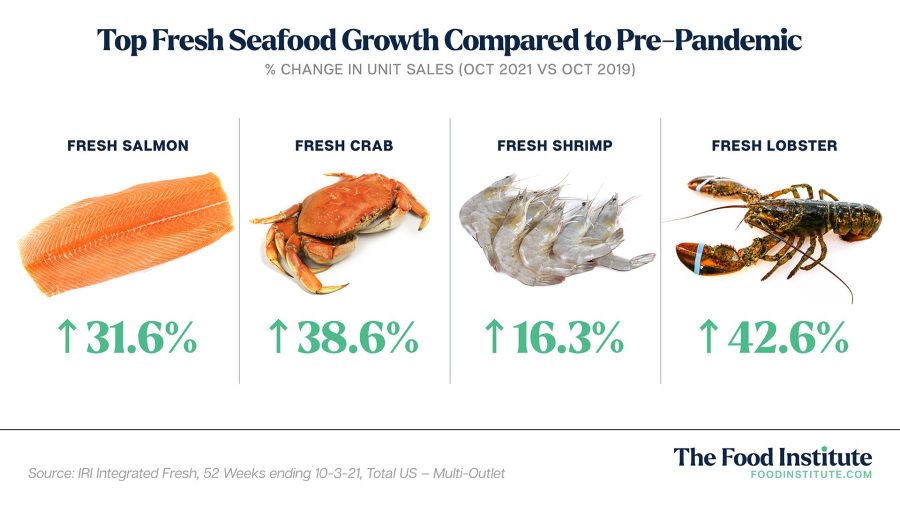 As Bowab notes, while adjusting to the sudden changes in consumption brought on by the pandemic and relying too much on the popularity of seafood is a difficult balance for retailers, "the increases in sales have been pretty resolute, which should offer some optimism for the broader seafood industry.

Blue food outlook
Recent research published in the journal Nature (September 15) predicts that global demand for "blue foods" – which includes any animals or plants native to water bodies – will roughly double by 2050.
A quarter of consumers eat more seafood than a year ago, according to the 2021 Food and Health Survey of the International Food Information Council. In addition, 36% of adults eat more seafood than meat, according toFood Technology Magazine(September 6).
"People are trying to make more informed choices about the food they eat, especially the environmental footprint of their food," said research collaborator Ben Halpern, marine ecologist at the Bren School of Environmental Science & Management at UC Santa Barbara. "Blue foods stack very well overall and are a great option for sustainable eating."