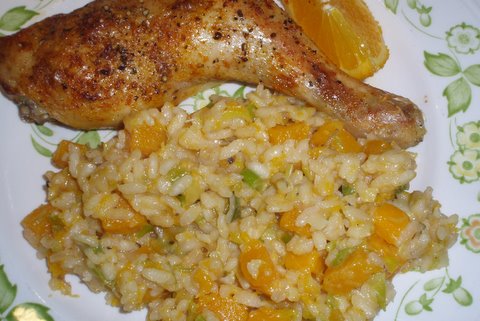 Seasonal Winter Comfort Food – Tillamook County Pioneer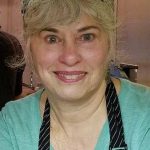 By Judith Yamada, cooking expert
At this time of year, in my area, seasonal crops are limited due to cold and rainy weather and less than ideal winter growing conditions. Yes, potatoes are still available during the winter season. Yet, as delicious as these mashed or fried potatoes are, they get a bit boring in mid-February. However, there are other great options for fresh winter vegetables. Two of my favorites are leeks and winter squash. They are both attractive ingredients for their colors, textures and nutrition. They're especially tasty when made together in the same recipe, and they're both low in calories.
Leeks are an excellent source of vitamin K, folate, B6 and C as well as a variety of minerals including manganese. An allium (like onions, shallots, garlic and chives), they have great flavor whether cooked, braised, sautéed or grilled. Leeks are also an excellent source of vegetable (non-heme) iron. Although plant-based iron is not as bioavailable as heme (animal-based) iron, it still makes a healthy contribution to iron levels in the body. As for winter squash, it's popular for many reasons, including its sweet, nutty flavor and versatility. It is suitable for both sweet and savory recipes and is rich in vitamin A, C, manganese and potassium, as well as fiber.
These two seasonal mainstays of winter pair beautifully in my winter squash and leek risotto. The result is colorful, flavorful and loaded with nutrition. The recipe is sophisticated enough to serve guests, yet easy enough for a midweek family meal. Try it on its own, sprinkled with fresh grated parmesan and crusty bread or salad, or enjoy this comforting dish with roast chicken or grilled salmon.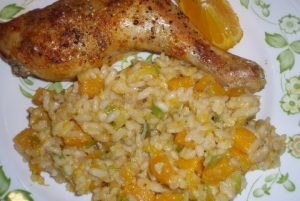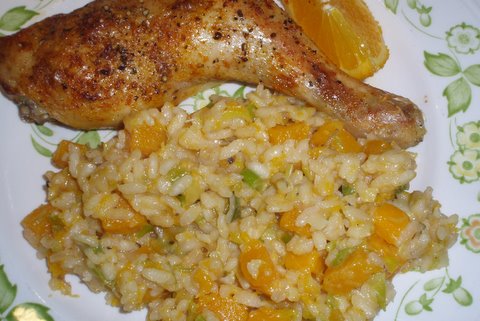 Winter squash and leek risotto
It's a great budget winter dinner and a delicious light lunch anytime. It's quite easy to prepare; just takes a little time (stir) and patience. It also goes well with roast chicken or fish. I grow leeks in my garden plot, and they're available all winter with a little digging and a thorough wash. I haven't had any luck with winter squash, but they are readily available in the market all winter.
4-6 servings
3 cups cooked and peeled* butternut squash (or other winter squash), cut into 1-inch cubes
2 medium sized leeks, trimmed and washed well between layers.
4 tablespoons extra virgin olive oil – divided
1 ½ cup Arborio rice
1 cup dry white wine OR broth
1 liter mushroom stock OR vegetable stock, heated to reheat
¾ teaspoon kosher salt
½ teaspoon freshly ground black pepper
¼ cup freshly grated/grated parmesan cheese
Cut off the root tips and dark green stems from the leeks. Use only the lighter white and green parts of the leeks. Cut the leeks in half lengthwise. Wash very well between coats. Wipe and coarsely slice. Put 2 tablespoons of olive oil in a 12 inch pan. Heat the olive oil over medium heat until the oil ripples. Add the leeks. Cook for about 5 minutes, stirring often. Remove the leek slices from the pan.
Add 2 tablespoons of olive oil to the same skillet. Again, heat oil over medium heat just until it begins to ripple; add the rice, coat with oil and stir often for 3-4 minutes to toast the rice. Slowly stir in wine (OR 1 cup broth) until most of it is absorbed.
Using a ladle, add ½ cup of the heated broth to the rice, stirring slowly but constantly until most of it is absorbed. Continue adding ½ cup hot broth and stirring until all the broth has been absorbed by the rice. It will take about 20-25 minutes to do so be prepared to relax for a while. Salt and pepper. Stir and taste for seasoning.
Add the cooked leeks and squash to the rice. Stir to heat through, about 4 minutes. Stir in the cheese and enjoy.
*To cook the squash in the microwave:
Add ½ cup of water to a round cake pan or microwave-safe pie pan. Cut the squash into chunks about 5 inches square and place flesh side down in the pan. Cover loosely with waxed paper and microwave on high for 4 minutes. Check for doneness. Turn the pan and microwave for an additional 3-5 minutes, if needed. Let cool completely and remove the crust with a sharp paring knife. Cut the squash into 1-inch cubes.
Original: Head of the kitchen