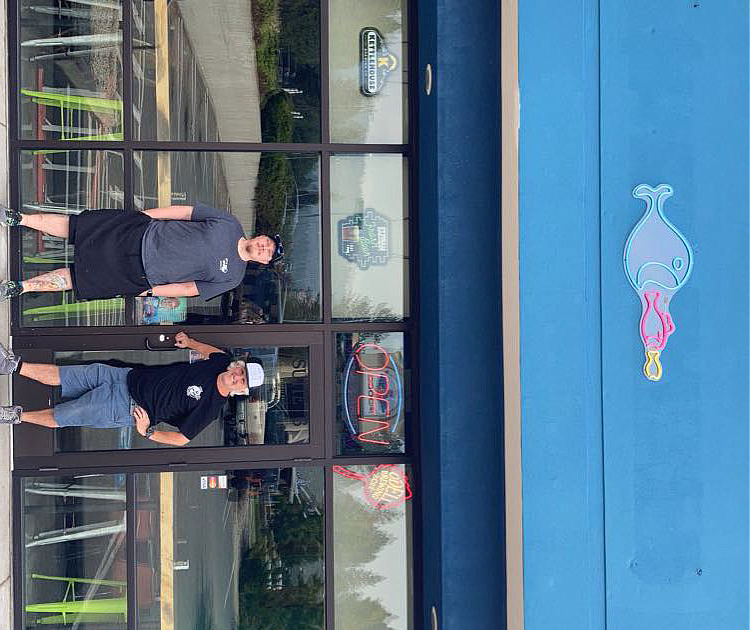 There is no food like seafood
A fast-casual seafood restaurant, Fish On is now open at 6613 Commercial Park Ave., Rathdrum, just off Highway 53 and near Super 1 Foods.
With dining and bar, menu includes fish tacos, poke bowls, Creole octopus sandwiches, chowder, daily specials, salads (with salmon and shrimp options), beer and wine, as well as a children's menu and takeaway.
Owners Pete Edge and Stephen Short have hours of operation from 11 a.m. to 9 p.m. Tuesday through Thursday and until 10 p.m. Friday and Saturday. Phone 208-712-3055. Visit www.fishon.com.
Heart Climbing Company planned for Post Falls
Coeur Climbing Company leases a large warehouse at 764 S. Clearwater in the Riverbend Commerce Park in Post Falls. Opening in early 2023, it will include 5,000 square feet of bouldering space, 24-foot rock climbing space, a yoga studio, weights, cardio equipment, workout walls, climbing gear, and a possible coffee. The mason is Entre-Prises.
The owner-operators are Jeff Dance, Brad Tanner, Jeff Fowler and Daniel Shaw. Visit www.coeurclimbing.com.
Dutch Bros plans fourth place finish at Kootenai
Dutch Bros Coffee's fourth Kootenai County location will soon be built at 6299 W. Pointe Parkway (next to Panda Express near Cabelas and Walmart) west of Post Falls.
With over 600 locations in 14 states, Dutch Bros offers specialty coffees, smoothies, ice cream, teas and energy drinks. With its mission of speed, quality and service, Dutch Bros began in 1992 with its headquarters in Grants Pass, Oregon. Visit www.dutchbros.com.
Now the treats
A new building for Anthem Pacific Homes is being constructed on Highways 41 and 16 in Post Falls. Three of the four 1,800-2,000 square foot suites are available for flexible office warehouse rental through owner Jeremy Voeller at www.anthempacific.com. Phone 208-981-0448.
A large new building with River City Urology on the second floor is under construction at Spokane Street and Third in Post Falls. The urology business is growing from Ironwood in Coeur d'Alene. With completion slated for Feb. 1, the first floor will have a chiropractor and 3,500 square feet of space available through Realtor Josh Beebe of Coldwell Banker Schneidmiller Realty at 208-699- 7980.
There are rumors of a North 40 in Rathdrum and a Costco in State Line.
The Ten/6 restaurant which was on Fourth Street a few years ago, where Izzy's Comfort Kitchen is now, will be in the building under construction at Government Way and Mill Street.
The former Wells Fargo building at Sherman and Third will have a Highlands Day Spa, art gallery and office for owner Pepper Smock's Windermere-Coeur d'Alene Realty.
Watch for the November opening of new buildings called Appleway Quarter at 271 and 291 E. Appleway between Baskin-Robbins and Verizon. Building 271 will house the Wellness Bar and has 1,200 square feet of retail space. Building 291 will have Hometown Chiropractic and Chip Cookie.
Rivaura Estates Winery will be in the former Live For Blue building at 505 E. Sherman.
Uncorked With Friends will take place at 9443 Government Way in Hayden.
Cochinito Taqueria will be in Hayden.
Watch for Prime IV Hydration & Wellness at Ironwood Square.
A large building is under construction at 9046 W. Prairie Ave. (near Greensferry) for the Mountain View Business Center. Contact Royce Johnston at 208-691-3054 for team rental information. For more information on the lease, contact Logan Rude at 208-651-8825.
Construction of a professional Class A office building is expected to begin soon on the northwest corner of the intersection of Prairie Avenue and Ramsey Road in Hayden.
A new Metro Express car wash will be built where the "Coming Soon" sign is at the intersection of Lancaster Road and US 95 in Hayden.
Burke's Restoration is building a new location at 3801 W. Riverbend Ave. in Post Falls. Details soon.
The planned Thomas George Building for the corner of Third Street and Front Avenue will be 18 stories mixed with commercial space on the first floor and 60 condominiums above.
Watch for details on new buildings being constructed for the offices of Rogers Burgers on Government Way and Caliber Collision by Metro Car Wash in Post Falls.
The St. Joseph Ear, Nose, Throat and Allergy Clinic will have a new building at 849 N. Syringa, Post Falls.
Watch for commercial construction west of Hwy 41 between 16th and Horsehaven in Post Falls.
Many of the 16 retail spaces are available in the future Prairie Crossing Mall at the northeast corner of Highway 41 and Prairie Avenue.
A new building for Etco Services is under construction off Huetter north of Seltice and I-90
The PACR office building is under construction at 1857 W. Hayden Ave.
A new Pizza Hut will be in Hayden.
The Mill will be a four-storey mixed-use building at Government Way and Mill Avenue with businesses, including restaurant Ten/6) on the ground floor and 43 apartments above.
The Orthopedic Physical Therapy Institute (OPTI) is constructing a new building in Hayden.
Cornerstone, a four-story commercial and residential building, is under construction in Riverstone.
Bruchi's quick service restaurant will soon be in a new building north of the corner of Highway 41 and Mullan Avenue.
Watch for the opening of the Vantage Point Brewery across from Michael D's Eatery on Coeur d'Alene Lake Drive.
Gentlemen Sausages will soon be in the former Abi's Ice Cream location at 112 Fourth St.
TownePlace Suites by Marriott Hotel is being built where the Outback Steakhouse used to be, at the southeast corner of I-90 and Northwest Boulevard.
Watch for an Indigo Urgent Care building under construction next to Starbucks in the Crossroads Center near Ramsey Road.
A new commercial and residential building, Midtown Center, is under construction at 821 N. Fourth St.
Watch for major changes with the Burger Bunker and Bunker Bar on Spokane Street in Post Falls.
Donohoe Construction will be in the large building at 2033 Seltice west of Post Falls.
Watch for many new places coming to Athol.
Berry Bay Smoothies will be at 8150 N. Cornerstone Drive in Hayden.
A penny has 118 edges around the edge.
Contact Nils Rosdahl at nrosdahl@cdapress.com.