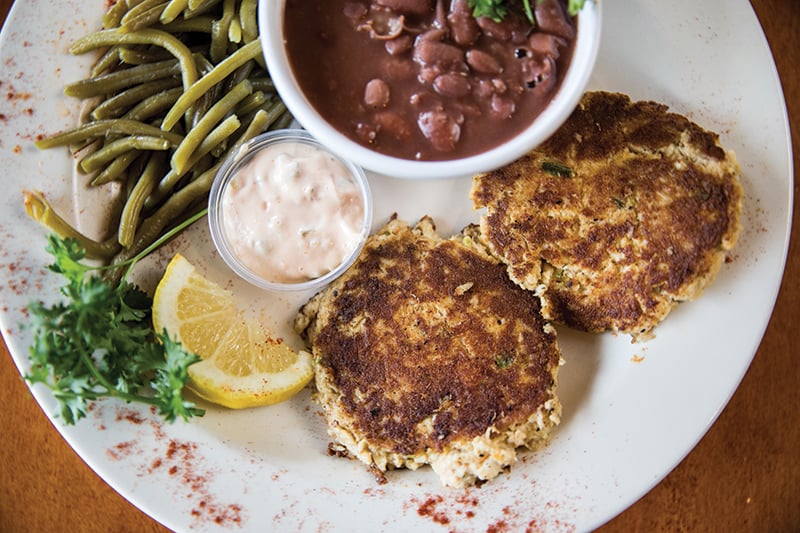 Where to find seafood in Charlotte right now
Count on freshness, well-prepared seafood 300+ miles from the Outer Banks seems risky. But a growing number of Charlotte restaurateurs are getting started. These days, you can get your fill of raw oysters, lobster rolls, crab cakes, and fish grilled, fried, taco-wrapped, or slathered in Cajun spices. Here are some highlights.
FEATURED RESTAURANT
Sea level
129 E. Fifth Street
704-412-2616
Every head in the dining room turns when a server emerges with the Truist Tower, a $135 three-tier column of 24 oysters, 12 mussels, 10 raw clams, shrimp ceviche, salmon poke, Maine lobster and caviar. Feast on classics like Maine Lobster Rolls or East Coast Shrimp & Grits, or try an unexpected dish like Catfish Rueben. Azure Cassidy, the "Barmacist," runs the drink program, and happy hour — when oysters cost $1.50 apiece — draws crowds after work.
---
hello sailor
20210 Henderson Road, Cornelius
704-997-5365
Enjoy blue crab claws or spicy North Carolina catfish in a mid-century modern dining room with stunning views of Lake Norman.
---
End & End
135, avenue Levine des Arts
704-800-5680
The raw bar serves a variety of oysters, but as a "social seafood house," its forte is sharing plates like Verlasso Salmon and Littleneck Clams.
---
Carolina Oyster Bar
120 Stonewall Street E.
704-499-6633
Head to the second level of the 22-story downtown JW Marriott hotel to sip a cocktail and enjoy the raw bar's fresh daily selections.
---
first fish
11212 Providence Road West, Ste. B
980-339-5822
Chef Robin Anthony is a Certified Sake Advisor who pairs Japanese rice drink with fish the same way a sommelier pairs wine with food. Book a seat at the 10-seat sushi bar to watch the master at work.
---
mizu
3100 Apex Drive
704-981-9299
Take a seat at the chef's counter to watch the Robata grill sizzle with charred lobster, prawns and vegetables, or sample a range of maki rolls and fresh, raw seafood in the dining room.
---
Southern Pecans
6706 Phillips Place Court, Ste. VS
704-749-2949
This menu is heavy on cornmeal-crusted, fried shrimp, catfish, and oysters. Think Texas and Louisiana packed for a high end SouthPark customer.
---
ROCK SALT
512 Brandywine Road, Ste. 500
704-503-9945
Visit this cozy spot behind the Park Road Mall for the large patio and fresh seafood. Order from the raw bar, which offers several varieties of half-shell oysters, or opt for the catch of the day.
---
Crayfish hut
3718 Central Ave, Ste. A
980-298-6418
Charlotte got her first "quick and laid back fishing camp" when the popular seafood chain opened in east Charlotte, and dishes like the Big Cat & Skrimp Po Boy taste just right.
---
Fresh waters
516 N. Graham Street
704-503-9629
Owners Sharon and Cliff Freshwater—yes, that's really their name—serve crab cakes, cornbread, and their popular blackened Cajun catfish.
---
LuLu's Maryland Chicken and Seafood
2400 Tuckaseegee Road
980-498-0838
The name LuLu pays homage to owner Jay Davis' mother, and the Baltimore native makes the best (and only) Maryland-style crab cake in Charlotte.
---
cajun queen
1800 E. Seventh St.
704-377-9017
A jazz band plays upstairs every night, and the main menu features Creole dishes like Étouffée shrimp and Diane crayfish, which you can order as spicy or mild as you like.
---
Cabo Fish Taco
Multiple locations
This "Baja seagrill" serves the title dish along with quesadillas, burritos and salads in a fun surf-themed atmosphere.
---
The Waterman Fish Bar
2729 South Blvd., Ste. D
704-275-5558
The South End Oyster Bar offers all the essentials: lobster rolls, fried fish sandwiches and four-way oysters. As the sun sets, head to the rooftop terrace for a signature cocktail and downtown views.